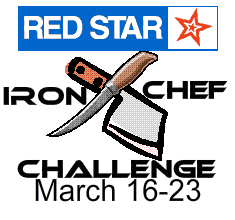 There were some great recipes linked up to last month's Iron Chef Challenge featuring Red Star Yeast. The blogs have all been reviewed and the results are in.
Guest Judge Kelly Olson, Consumer Relations for Red Star Yeast selected a winner and choose......
PinayInTexas for her Pan de Coco and Pan de Ube.
Guest Judge Kelly had this to say about the recipe. "I selected this recipe entry for its originality and uniqueness and also enjoyed the story of her childhood memories that prompted her to create the recipe. An added bonus were the step-by-step photos she included in her post. The photos of the finished rolls were colorful and very spring-like!"
Congrats to Pinay! She will be receiving a Red Star Yeast Prize Pack for winning.
Big Thanks to all the bloggers who participated and to Red Star for sponsoring this months contest.