Well today is an exciting day here on a Latte' with Ott, A as I am thrilled to be sharing a recipe over on the blog
"The SITS Gals"
Since St. Patrick's Day is only a few days away; what better time to fix lamb for your family?!?! And, who better to share a lamb recipe than a real life sheep producer?!?! So, be sure to head over to SITS bog for my recipe for Kerry Pies and Colcannon.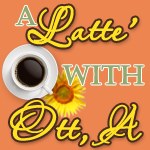 Or, if you are just stopping by from the
Secrets in the Sauce
; Welcome! I'm so glad you decided to come by for a Latte' and see what all we've got brewing over here.
Yes, four generations of my family have raised purebred Shropshire sheep and live/work on the same family farm since 1919. We are just getting ready to start our lambing season; which is my favorite time of year on the farm. (This is the time when the ewes; female sheep have their babies.) But remember when the lambs are processed they are fully grown and weigh around 150 pounds. The meat is called lamb, because the animal is under 1 year of age, but they are not little by any means. If you would like to know more about our flock of sheep and how we take care of them then click
here
.
If you are interested in learning more about production Agriculture then I urge you to check out some of my blogging friends;
The Real Farmwives of America
. I always say Farmwives know the best dirt and you can learn first hand from woman bloggers across the nation about life in the country, raising kids on the farm, working with their husbands out in the fields and baking in the kitchen with what they produce.
As for more on this blog; we just finished last month's Iron Chef Challenge where the themed ingredient was Duck. Each month I host the
Iron Chef Challenge
where there is a themed ingredient for bloggers to make something with, blog about, link up their recipe and possibly win a prize for their recipe. March's themed ingredient will be Yeast and the sponsor is Red Star Yeast. So check back March 16-23 to see the recipes linked up or better yet, link up one of your own.
We are starting to plan our
garden
and I can't wait to get things planted although I know we are a few weeks off. I enjoy baking what we raise in our kitchen and
canning
what we can't eat to enjoy all winter long.
Later this spring we are expecting our first baby (MacchiOTTo) and we have been sharing glimpses of the
nursery
. Later this week we will share the final reveal of the completely finished nursery; so you'll want to be sure and check back for that.
And there is always lOTTs more to see and read about. So thanks a Latte' for stopping by and I hope you will consider following my blog through
facebook
, e-mail or
twitter
!!!