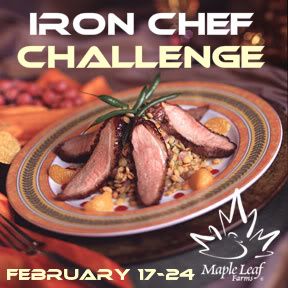 We are all set to kick off February's Iron Chef Challenge with our themed ingredient of Duck. While I realize Duck is not always a commonly used meat in most kitchens this is a challenge and will hopefully stretch you in your culinary skills and give you some inspiration to try duck on your own.

Rules: Chefs (aka bloggers) will prepare something using Duck in their recipe and blog about it. Included in this blog post must be the recipe along with pictures and any tips on preparing the item. Posts must include Ott, A's Iron Chef Challenge Badge (code found in sidebar).
The winning recipe will receive a prize of a $100 Duck Package -- $50 worth of Maple Leaf Farms Duck, Meals to Remember Cookbook ($35 value),
Guest Judge, Brian Beam,
has been with Maple Leaf Farms for 13 years and is the Director of Duck Sales. He and his sales team service North and Central America.
And for more great recipes and tips on cooking with Duck check out
Maple Leaf Farms on facebook
and twitter (@mapleLeafFarms). Also, if you're on twitter feel free to use #IronChefChallenge when discussing this contest.
The Linky is open February 17 - 24th. The winner will be announced on the blog the week of February 27th.
Good Luck and may the best chef/blogger win!!!!