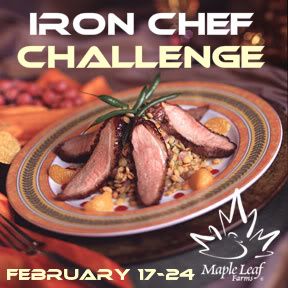 February is here; the Groundhog saw his shadow, the Super Bowl is upon us, Valentines Day is just around the corner and this month's Iron Chef Challenge will be featuring Duck as the themed ingredient and the sponsor is Maple Leaf Farms.
Rules:
Chefs (aka bloggers) will prepare a dish using Duck in their recipe and blog about it. Included in this blog post must be the recipe along with pictures and any tips on preparing the item. Posts must include Ott, A's Iron Chef Challenge Badge (code found in sidebar).
Maple Leaf Farms
is located in Northern Indiana and one of the largest producers of white pekin duck in North America.
Prize: $100 Duck Package -- $50 worth of Maple Leaf Farms Duck, Meals to Remember Cookbook ($35 value),
Guest Judge: Brian Beam,
has been with Maple Leaf Farms for 13 years and is the Director of Duck Sales. He and his sales team service North and Central America.
If you are interested in participating in the contest and would like to try Maple Leaf Duck please e-mail me at alattewithotta(at)gmail(dot)com for a coupon!
The Linky will be open on this blog
February 17 - 24
. And feel free to check out
Maple Leaf Farms on facebook
and twitter (@mapleLeafFarms) for more recipes and ideas for using duck in your own kitchen. Also, if you're on twitter feel free to use #IronChefChallenge when discussing this contest.