Well it's not everyday that the Super Bowl comes to town, and let me tell you Indianapolis is all decked out and ready to welcome fans and teams to this great city. As I've mentioned before there is something about Hoosier Hospitality; and the way people in this state go above and beyond to make sure guests fell welcomed and invited. As you will see in the pictures below, there are banners on every street sign. The hotels have large banners (Like the JW Marriott's 30 story tall Lombardi Trophy.) Even the flower planter boxes have Lombardi artwork in them.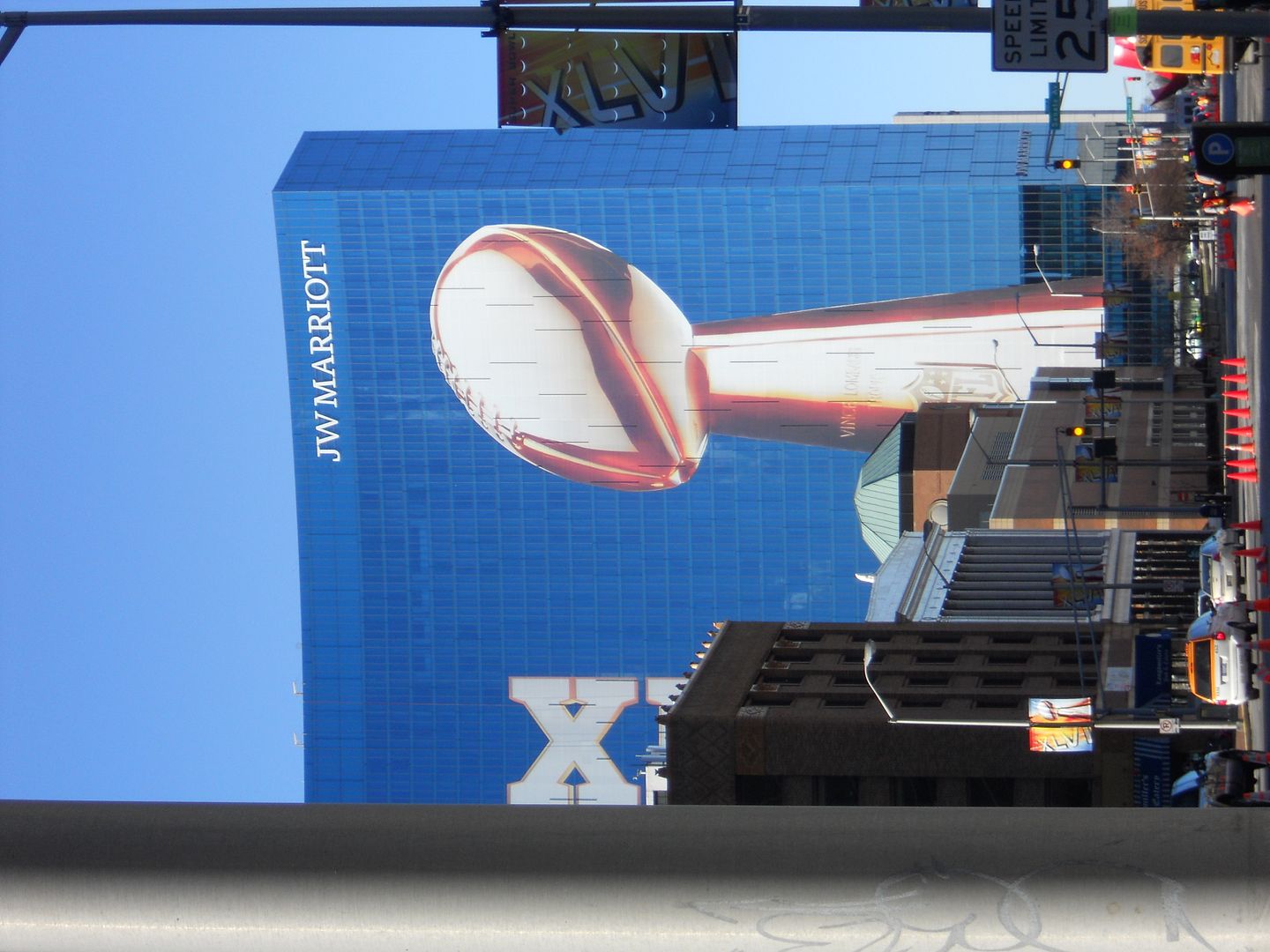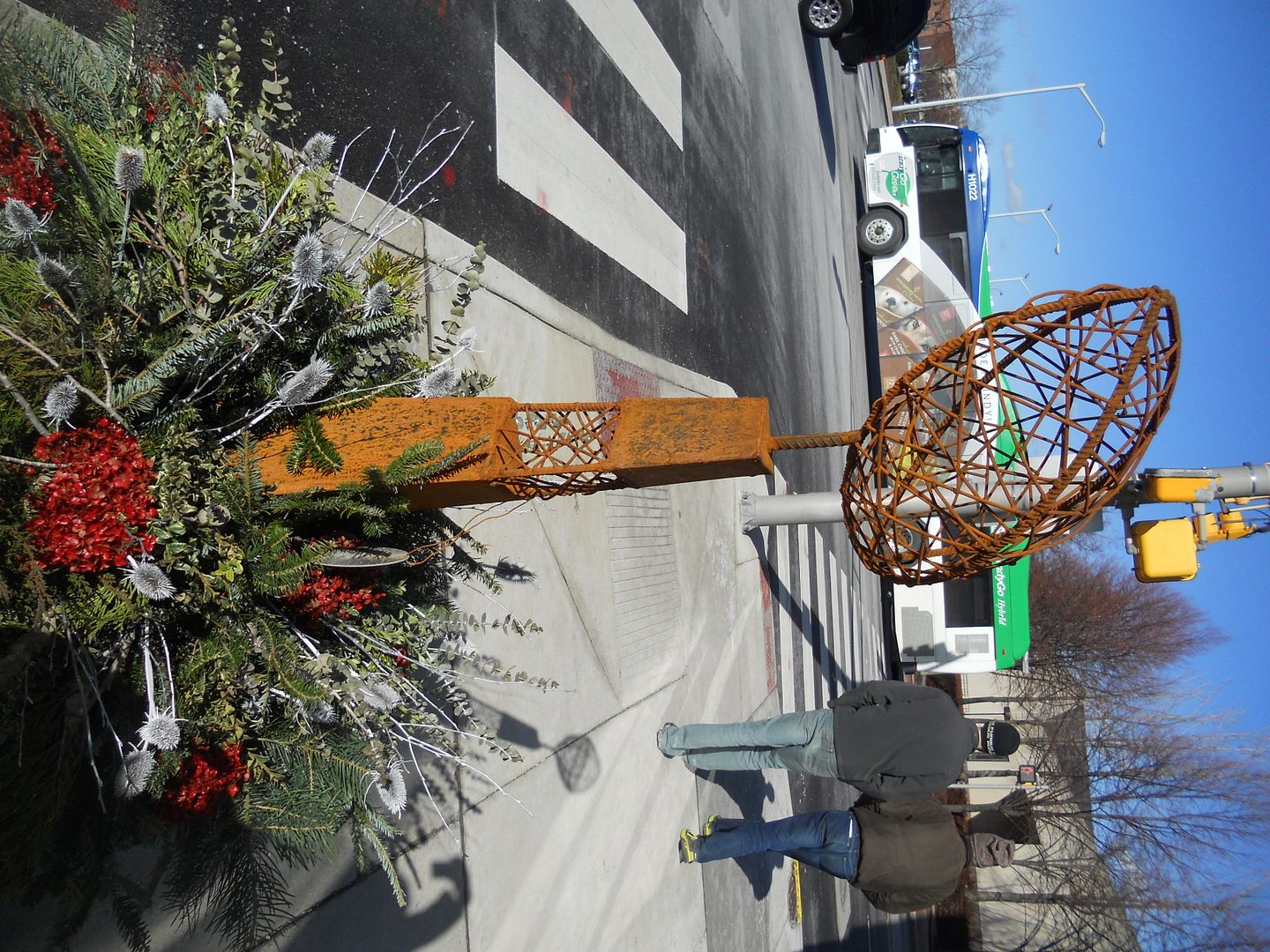 It's everywhere you look, why they even renamed the streets downtown after NFL teams.
On Monument Circle in the heart of the city, there are giant roman numerals. At night these letters are like giant TV Jumbotrons that show different images.
So, I'll be the first to admit; I honestly thought when the game came to town that was it. There was a football game and people came and went with that. I had no idea what all else went on in and around the Super Bowl. What I quickly found out is that there is a week long party leading up to the big event. There are lots of parties and lots to see and do. This past weekend Ott, E and I went downtown and took in the NFL Experience.
The NFL Experience is located in the Convention Center downtown and it costs $25 per person to get in. But once inside there is plenty to see and do; especially if you have kids. There are large rooms full of astro-turf and places for you to practice kicking field goals, throwing footballs and tacking dummy's.
The Lombardi Trophy is on display and there are players and famous NFL alumni on hand to sign autographs. Above is a picture of Ott, E pretending to get drafted by the Packers. They have jerseys from every team and have set up a mock stage and platform for you to pose with your teams jersey. They also have game balls on hand from previous Super Bowls to look at and they have a ring from every Super Bowl victory on display to view.
They have cut outs of your favorite players, and below is a wall dedicated to last years Super Bowl winners, the Packers.
There was an area that was a mock up locker room and it showed you what different players from around the league had in their own lockers.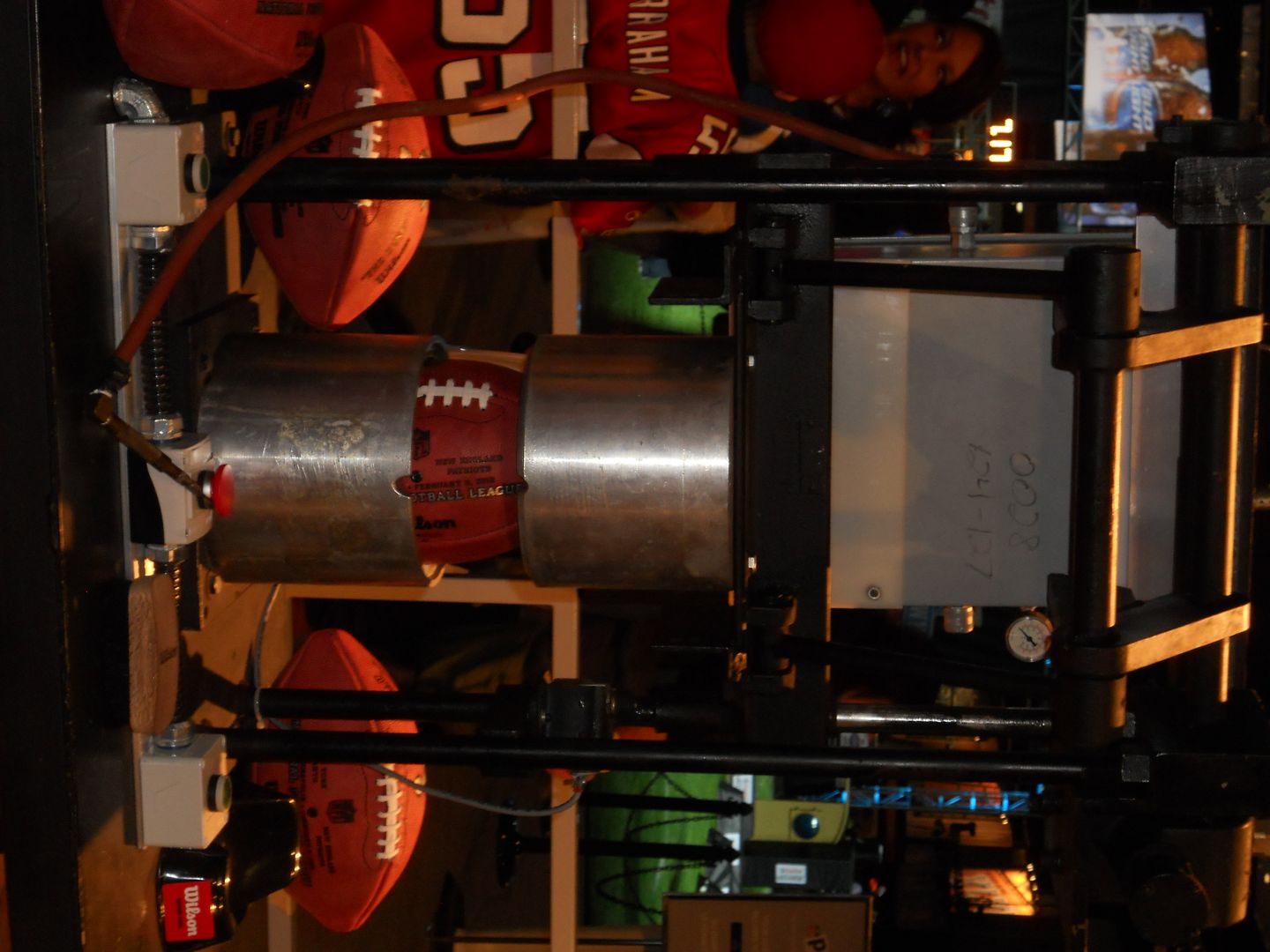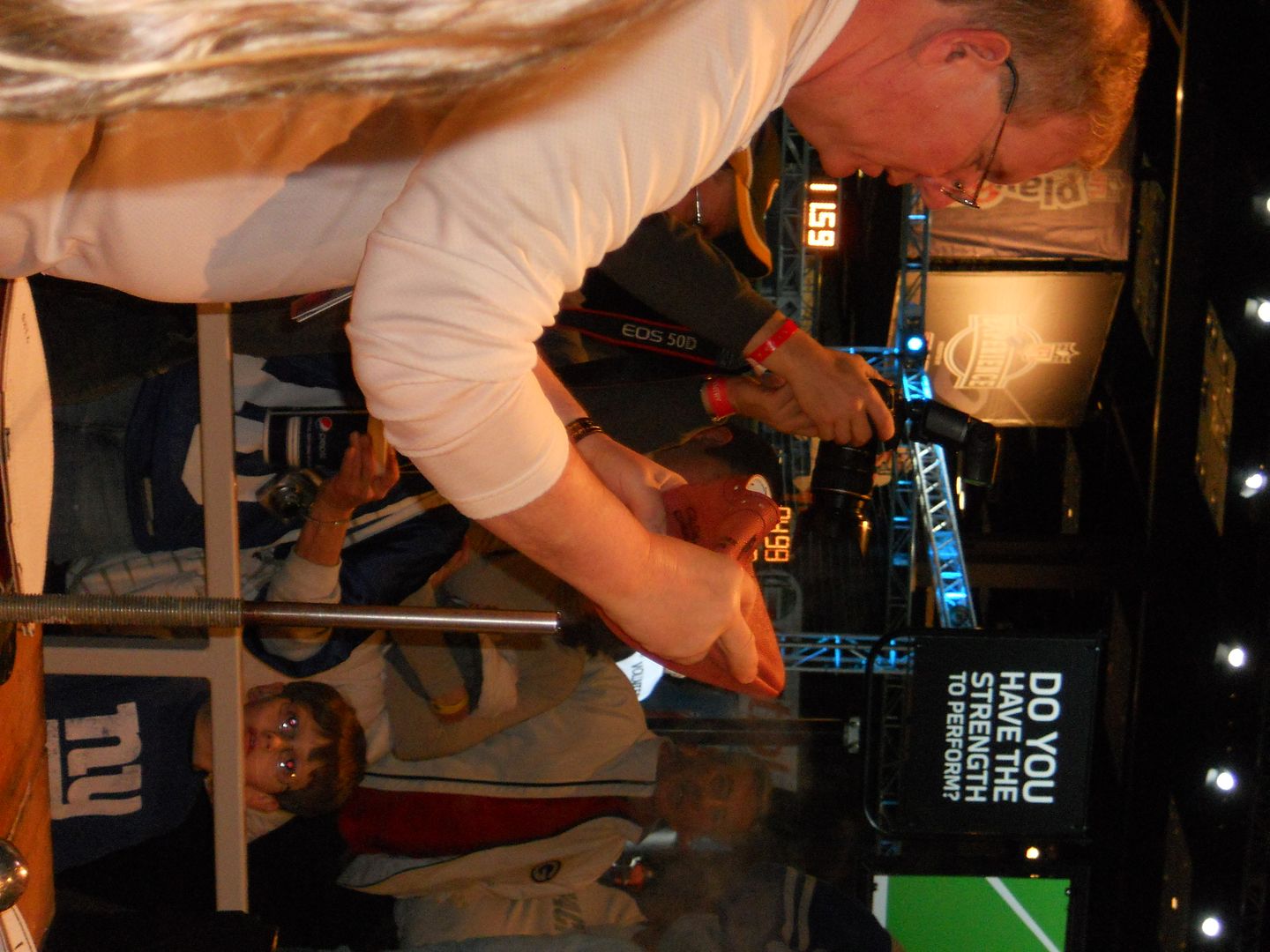 There was an area where they demonstrated how footballs were made and people on hand to explain the process. There were also historical items from the Pro-Football Hall of fame on display to view like this old Bears Jersey, helmet and showes.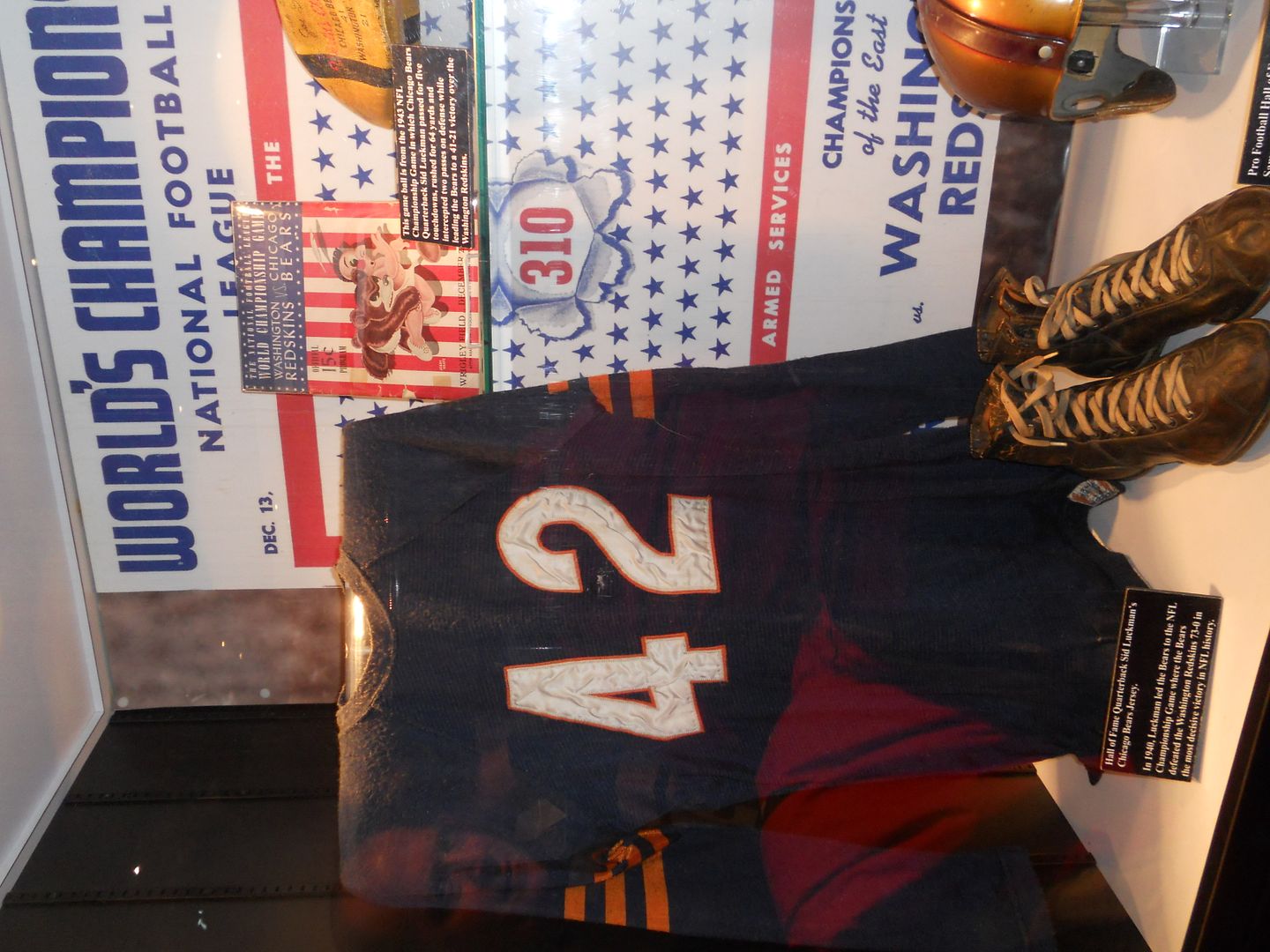 Then outside their is the Super Bowl Village. This is free and open to anyone. There are more astroturf areas to run around on as well as a couple outside bars, souviner stands and various other items to see. Below is a picture of an ice sculptor on display. (I'd like to see them try this in a warmer climate.)
And to give the Super Bowl an Indy touch there are Indy Race Cars on display and each one is painted with a different NFL teams logo.
There are space heaters every 100 feet or so to keep you warm while out in the Village.
There are 2-3 outdoor stages with entertainment every afternoon and night.
And all of this is next to lots of restaurants and shopping. Indianapolis is set up great for this type of event as everything downtown is within walking distance so you can go from your hotel to the stadium to dinner and then off to a museum or concert and it's all right there, you never have to get in your car once you arrive.
I hope you enjoyed this little tour of Indianapolis during the Super Bowl and hope you learned a little more about what to expect when a big event like this is in town.