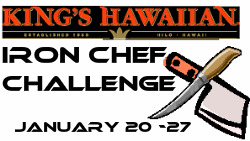 This month's Iron Chef Challenge will feature King's Hawaiian Bread.
Rules:
Chefs (aka bloggers) will prepare something using any King's Hawaiian Bread Products in their recipe and blog about it. Included in this blog post must be the recipe (stating what Kings Hawaiian Bread Product you used) along with pictures and any tips on preparing the item. Posts must include Ott, A's Iron Chef Challenge Badge (code found in sidebar).
Judge:
At the end of the contest a representative from Kings Hawaiian Bread will judge the entries and select the winner.
Prize:
The winning recipe will be announced on this blog and will receive a gift basket of King's Hawaiian Bread (valued at $150) containing: one of each Original Hawaiian Sweet Round Bread, 12-pack Rolls Mini Sub Rolls, Sandwich Buns, One serving platter with four matching plates, $50 grocery gift card, King's Hawaiian apron, King's Hawaiian coupon, and a King's Hawaiian recipe booklet
Big Thanks to King's Hawaiian for sponsoring this month's contest. Be sure to check out their
website
,
facebook
page or twitter accounts (@KingsHawaiian) for more information and recipes about their products.
They Linky will be open from January 20 - 27th. And the winning recipe will be announced on this blog the week of the 30th.
Good Luck and Aloha!!!