We are past the half way mark and our little machiaOTTo is doing just great. Below is a picture from our 20 week ultrasound. We were so amazed getting to see the baby's heart, brain, kidneys, bladder, umbilical cord and even it's feet. It is truly a blessing to see what technology and biology can do.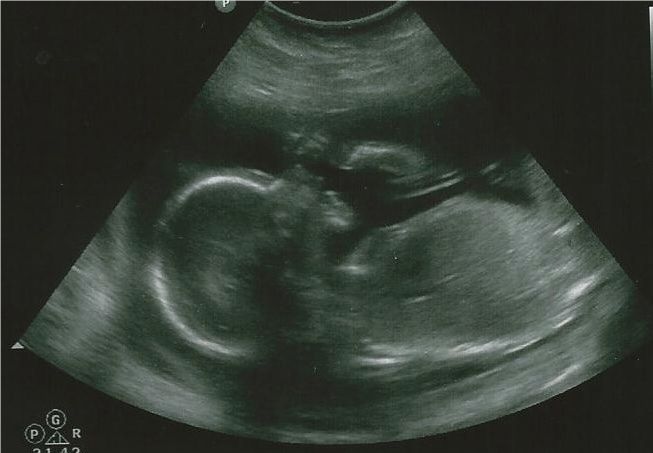 And 20 week also means that the baby's hearing has developed so it can now hear sounds outside the womb. This got me to thinking about playing some music for our baby. Now of course the baby can jam along with me during a car ride, but what about some music directed toward the baby and for the direct benefit of the baby. Well I got to looking and thinking and was thrilled to get a pair of
Bellybuds
to review.
Just like earbuds are for you to help listen to your ipod or MP3 player; bellybuds are designed for your baby to listen to music while in the womb. The bellybuds are designed for sound to reach the womb at a safe level, yet dampen the sound so it can't be heard by you or others around you. There is an adhesive on the bellybuds to attach right to your belly, and as you can see in the picture below they can be worn discreetly under your clothes so no one will know your baby is boogieing away.
After use the bellybuds can be removed painlessly (I've had bandaids hurt worse than these do) and returned to a card they come with to keep the adhesive fresh until next time. The pack also came with some replacement adhesives for multiple uses and you can purchase more on the
bellybuds website
.
(And yes, I can't believe I am showing you my pregnant belly on this blog, but I did want you can see how the bellybuds fit.)
Another feature that come with the belly buds is a Audio Splinter. (pictured below) This is an extra piece that allows you to hook up your own earbuds to the sound outlet so you can ear and baby can hear at the exact same time. I really liked this feature and enjoy knowing exactly what our baby is hearing while they hear it. Here I hooked the bellybuds up to a diskman. Bellybuds has a
voice share option on their website
and I found this to be helpful in that it allows you to record your voice and then download it and burn it on a CD. Not that baby needs to hear my voice anymore than it already does all day long, but now it can hear Ott, E's voice. You could also have other family members record their message, read it a book or tell it a story and they could e-mail the message to you for download and baby can become familiar with every ones voices.
Or like I mentioned earlier you can always plug it into your ipod or MP3 Player and tuck it inside your pocket while you do other work during the day. In general they say not to use the bellybuds for more than one hour at a time and only about 3 days a week.
I started out with only 15 minutes the first time and then worked my way up in 15 minutes intervals to the full hour. I have been playing classical music mostly, but every now and then I play it the Purdue Fight Song
(Boiler Up!)
along with some country and classic rock favorites.
So what songs would you select for your baby to listen to????
Big thanks to Bellybuds for sending me this pair to review on my blog. You can purchase a pair for yourself or for someone you know who is expecting on their
website
. You can also find them on
facebook
and twitter (@bellybuds).
Please note while Bellybuds did give me this sample of their product to review; all thoughts, opinions and photos shared on this blog post are my own.