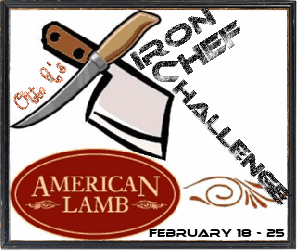 There were 9 delicious recipes posted during Febraury's "Iron Chef Challenge" with lamb chops as the themed ingredient. The guest judge from the
American Lamb Board
had a tough time picking a winner. The recipes, pictures, and stories of families eating lamb (in some cases for the first time) were of such variety and diversity in ingredients and preparation. The winner will receive 6 servings of Fresh American Lamb chops.
The Winner of Iron Chef Challenge Lamb Chop is........

This recipe was crowned winner for the "ewe-nique" use of seasonal ingredients, mouth-watering flavors and modern spin on classic lamb loin chops. Merry showed her love for lamb by sharing her story has a member of a 4-H club and her impressive shout out about how American lamb is a healthy meat full of protein and other wonderful nutrients.


Big Thanks to the American Lamb Board for being our sponsor!!!! Be sure to check out more recipe and facts about lamb on their twitter and facebook pages.

And thanks to all the chefs (aka bloggers) who linked up!!! I hope you will be back next month for "Iron Chef Challenge: canned tomatoes!"

This post was linked to: Mingle Monday, Tuesday Blog Trail, and Making Friends Monday.