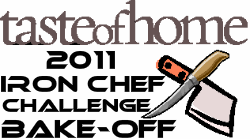 Well the recipes have all been posted, the ovens are turned off, the judge has reviewed the entries and all the contestants are anxiously awaiting the results of the 2011 Iron Chef Challenge Bake-Off against our monthly champions. In case you missed each previous winning Iron Chef Blogger received a Taste of Home recipe for Cinnamon Raisin Bread. They were to bake this bread and follow the ingredients and then make something else with the bread. This great collection of recipe creations can be found
here
. (Go check it out!)
Our guest judge from Taste of Home had quite the time selecting a winner. They told me that they loved the entries and showed them to their Test Kitchen Staff and they were impressed as well. In the end the winning recipe and title of 2011 Iron Chef Blogger went to.......
Girlichef and her Cinnamon Lovers Delight
Cinnamon Ice Cream with Cinnamon Raisin Bread Praline Crunch
The judge thought this decadent treats looked positively heavenly and a true cinnamon-sensation!
Girlichef will be receiving a Taste of Home Baking Cookbook courtesy of Taste of Home and of course the title of 2011 Iron Chef.
I want to say a big Thank you to everyone who participated, stopped by to see these great recipes and blogs and our sponsors for their judges and prizes. I am pleased to say we will be back again in 2012 for another year of this contest and will be announcing the themed ingredients right after the first of the year!!!