Now don't fret, I'm not giving up blogging, I'm giving up caffeine. And let me tell you that was no easy task. I started out by making the coffee weaker each morning and then dropping from one cup to two. Then I switched to half calf, then I tried to fool by self by drinking decaf, but finally I just went cold turkey. It was probably a 3 month process and I'll be honest I still crave coffee each and every morning. I smell it in the break room at work and long for a cup. As all the fun holiday flavored creamers come out this time of year, I stand in the dairy section of the grocery store and stare and long for a cup of Peppermint mocha flavored creamer in a hot cup of black coffee.
But my sad story of withdrawal still doesn't give you the reason as to why I went off coffee. I will let the shutterfly card below explain.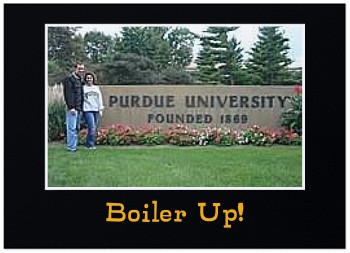 Classic Black 5x7 folded card
On the inside of the card we wrote:
Cost of In-State College Tuition in 1998:
$12,824
Cost of Out-of-State College Tuition in 1999:
$22,208
Cost of BioChem 307 textbook in 2002:
$59.42
Letting you know there are 3 Boilermakers in this picture.....
Priceless!!!
Thats right! A baby Macchiato (or MacchiOTTo) is on the way!!!!!! Since Ott, E and I met at Purdue it seemed like a perfect segway for our announcement. And with our family and friends being so spread out over the country it seemed better to send a card since we couldn't tell them in person. Most were surprised and of course excited as it will be the first grandchild on both sides of the family.
We are very happy and excited for this new arrival and are certain our lives will never be the same once it arrives. So in honor of this exciting announcement I am declaring this week on a Latte' with Ott, A "Pregnancy Week." Each day this week I will have a post on recipes, clothing and exercise all focused on expectant mothers. I hope you will come back each day to see what all we have going on.