A new year is here and that brings a new round of the Iron Chef Challenge. This month we are kicking off our 2012 series with King's Hawaiian Bread as the themed ingredient. Starting January 20th you can link up a recipe where you use any variety of Kings Hawaiian Bread. Just think of all the tasty appetizers, desserts or main dishes you can make with this sweet tasting bread?!?!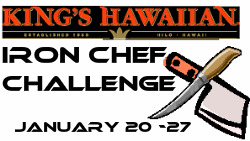 The linky contest will be open on this blog from January 20-27th. At the end of the contest a representative from Kings Hawaiian Bread will judge the entries and select the winner. The winning recipe will be announced on this blog and will receive a gift basket of King's Hawaiian Bread (valued at $150) containing: one of each Original Hawaiian Sweet Round Bread, 12-pack RollsMini Sub Rolls, Sandwich Buns, One serving platter with four matching plates, $50 grocery gift card, King's Hawaiian apron, King's Hawaiian coupon, and a King's Hawaiian recipe booklet
To learn more about our sponsors products or to get some recipe inspiration visit King's Hawaiian Breads
website
,
facebook
page or follow them on twitter (@KingsHawaiian).
So I was trying out these King's Hawaiian Mini Sub Rolls. They are the perfect size for a lunch time sandwich and I decided to try out Leah from the blog
Beyer Beware, Ham Sammies Recipe
with them.
I put my own twist on Leah's recipe and here's how I made them my own. I melted 4 T. of butter and add a dash of onion flakes, a Tablespoon of Worcester Sauce, a Tablespoon of Dijon Mustard, and a dash of garlic salt. I spread half of this mixture on the bottom roll.
Then layer honey ham and Swiss cheese, and covered it with the top half of the roll and poured the remaining mixture on top of the sandwich.
I then baked them in the oven at 350 degrees for 20 minutes. And they came out warm and yummy. Thanks to Leah for sharing this recipe. Until January 20th I will look forward to what you all come up with for your Iron Chef Challenge: King Hawaiian Bread entries!!!!