This month will conclude our year of monthly Iron Chef Challenges, and today I am showcasing the winners one more time as tomorrow they will bake-off against each other to determine who is the 2011 Iron Chef Blogger. Each blogger will be given the same Taste of Home Recipe to make; then they will need to create something else with that product.
Taste of Home
has graciously agreed to be the sponsor and judge for this Champions Edition and the winning blogger will receive a Taste of Home Baking Cookbook.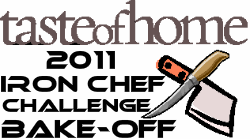 But before we get to that match-up I thought we would start with recapping the winners who will be battling it out for the 2011 Iron Chef. Each month we have had some challenging ingredients for bloggers to cook with and each month they have risen to the challenge and come up with recipes to please their families, as well as the judges, and won some fabulous prizes along the way. So without further ado; here are your monthly winning recipes and bloggers.
January
Theme: Duck
Sponsor: Maple Leaf Farms
February
Theme: Lamb
Sponsor: American Lamb Board
Winner: My Merry Cooking
March
Theme: Canned Tomatoes
Sponsor: Red Gold
Winner: From Mess Hall to Bistro
April
Theme: Baking Powder
Sponsor: Clabber Girl
Winner: Pinay in Texas
May
Theme: Ham
Sponsor: Dakin Farms
Winner: Cook with Sara
June
Theme: Milk
Sponsor: Dean Foods
Winner: A Gal in the Middle
July
Theme: Flour
Sponsor: King Author Flour
Winner: Wag n'Tails
September
Theme: Yeast
Sponsor: Red Star Yeast
Winner: Create with Joy
October
Theme: Artichokes
Sponsor: Ocean Mist Farms
Winner: 3 Kids & Lots of Pigs
November
Theme: Turkey
Sponsor: National Turkey Federation
Winner: 3 Kids & Lots of Pigs
Taste of Home
for being our sponsor!!!!