Here we are at the last recipe from the Gooseberry Patch "Homemade Christmas" Cookbook. I have baked 10 recipes that Ott, E selected from this cookbook and shared them all with you on this blog. Each post was a new recipe and I let you know what Ott, E thought of the recipe so you would get a man's perspective on these dishes. Today I share with you a great autumn recipe for:
Caramel Glazed Apple Cake
Ott, E really liked the spices in this cake and thought they compliments the apples perfectly. It was a great dessert to serve on a fall day with a cup of coffee or a glass of milk. And, or course the Carmel Sauce on top is sure to please anyone sweet tooth.
Ott, E and I picked these apples at an orchard not too farm from our house, so I thought I would use them in this cake. And if you want to see an updated version of this recipe for the caramel glaze please click
here
.
Ingredients:
1 1/2 cup butter, softened
1 c. sugar
1 c. brown sugar
3 eggs
3 c. all purpose flour
1 tsp. baking soda
1/2 tsp. salt
1 T. cinnamon
1 tsp. nutmeg
5 apples, peeled, cored and sliced
1 1/4 cups chopped walnuts
2 1/4 tsp. vanilla
Directions: In a large bowl with an electric mixer on medium-high, beat butter and sugars until light and fluffy. Beat in eggs, one at a time. In a separate bowl, combine flour, baking soda, salt and spices. With a wooden spoon gradually add flour mixture to butter mixture to form a very thick batter. Stir in remaining ingredients.
(I love my handy apple peeler/corer. It's quick, easy and fun to use and works great.)
Pour batter into a greased 13" x 9" baking pan. Bake at 325 degrees for 50-60 minutes, until a toothpick comes out clean. Cool cake in pan on wire rack for at least 10 minutes.
With a fork; poke holes all over the surface of the cake.
Carmel Glaze: 1/4 c. butter, 1/4 c. sugar, 1/4 c. brown sugar (packed), 1/8 tsp. salt, 1/2 cup whipping cream.
In a saucepan over medium-low heat, melt butter. Add sugars and salt. Cook, stirring frequently, for 2 minutes. Stir in cream and bring to a boil. Cook, stirring constantly, for 2 minutes.
Pour warm Carmel Glaze over cake. Serve warm or cooled. Serves 16.
In case you missed here here were the other 9 recipes!
,
Maple Baked Acorn Squash
,
Cheesy Garlic Pull-Apart Bread
,
Pumpkin Chocolate Chip Cookies
,
Pumpkin Ice Cream Pie
And as promised I am giving away a copy of Gooseberry Patch's Homemade Christmas Cookbook to one of you! This Cookbook will come in handy around the holidays for all your baking needs or could make a great Christmas present or hostess gift. All you have to do to sign up in click on the Rafflecopter widget below to enter.
Big Thanks to Gooseberry Patch for sponsoring this contest with The Real Farmwives of America & Friends and providing this cookbook to be giveaway.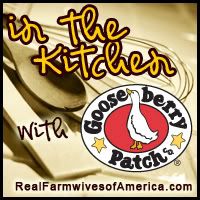 This post was linked to:
Melt in your Mouth Monday
on Make Ahead Meals for Busy Moms,
Mingle Monday
on Add a Pinch,
Metamorphosis Monday
at Between Naps on the Porch,
Just Something I whipped up Mondays
on the Girl Creative,
Made by You Mondays
on Skip to my Lou
2 Maids a Baking
on 2 Maids a Milking,
Tasty Tuesday
on Beauty and Bedlam,
Tempt My Tummy Tuesday
at Blessed with Grace,
Hearth N' Soul
,
Made from Scratch Tuesday
on From Mess Hall to Bistro,
It's a Blog Party
,
Dr. Laura's Tasty Tuesday
,
33 Shades of Green