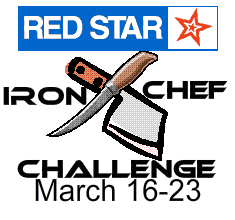 Well let me first tell you that Red Star Yeast had quite the time choosing a winner for the Iron Chef Challenge! They told me that they really enjoyed the variety of recipes that were submitted from root beer and ginger ale to a bread that combined two rather unlikely ingredient companions--rosemary and raisins.
But they did make a decision and the winner of Septembers Iron Chef Challenge is................
Judge, Kelly Olson, Consumer Relations for Red Star Yeast had this to say about the winning recipe. "Among all of the wonderful recipes that were submitted, I ultimately chose the Chocolate Babka as the winner. I must admit I'm a big chocolate fan and it's not often that you'll find chocolate in a yeast dough recipe. Create with Joy took a rather involved recipe, broke it down step-by-step, supported by fabulous photos and made it look quite effortless. I am certain that her post will inspire even the most yeast-challenged bakers to give it a try. A great recipe to try for the holidays---makes 3 loaves, one to keep and two to present as gifts!"
Congrats to
Create with Joy
on winning the Red Star Yeast Prize Pack. We will be sending that to you shortly. And Big Thanks to Red Star Yeast for sponsoring this month's Iron Chef Challenge. Be sure to check out their website and facebook page for more recipes and tips.