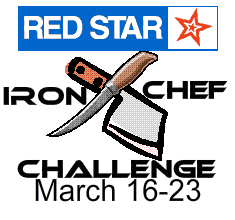 The theme for September's Iron Chef Challenge is Yeast, sponsored by Red Star Yeast.
Rules: Chefs (aka bloggers) will prepare something using Red Star Yeast in the recipe and blog about it. Included in this blog post must be the recipe (stating what kind of Red Star Yeast you used) along with pictures and any tips on preparing the item. Posts must include Ott, A's Iron Chef Challenge Badge (code found in sidebar).
Prize: The winning blog post will win "The Kneaded Loaf" recipe book, a Red Star "I love to Knead" apron, a bread pan, oven mitts, thermometer and of course Red Star Yeast!!!
The winner will be announced on this blog the week of September 26th.
Judging the recipes will be Kelly Olson, Consumer Relations for Red Star Yeast. She will be looking for content, pictures and how the product was enjoyed by your families and/or guests as her criteria for selecting a winner.
Big thanks to
Red Star Yeast
for sponsoring this event! Be sure to check them out on
facebook
and twitter (@RedStarYeast).
The Linky will be open from September 16-23.
So lets fire up those ovens!
Good Luck and may the best Chef win!!!