Do I ever have a treat for you today?!?!? I was coming home late from work one day and Ott, E started dinner and had it on the table ready to eat when I walked in the back door. Now normally I would think; wow am I ever lucky to have a guy who can help in the kitchen. But this time I was completely thrilled to see that he fixed a recipe he selected from the Homemade Christmas Gooseberry Patch cookbook.
So if Ott, E can make this tasty fall side dish...... so can you!
Ingredients:
1 acorn squash, halved and seeded
1/2 cup maple Syrup, divided
2 tsp. Butter, diced and divided
salt & pepper to taste
Directions:
Fill an ungreased 9x9 inch pan with 1/2 inch water. Place squash halves in pan, cut side up. Pour 1/4 cup syrup into each squash half. Dot each with 1 tsp. of butter; sprinkle with salt & pepper.
We are halfway through our recipes for this cookbook partnership. So come back next week for some more fall themed food items.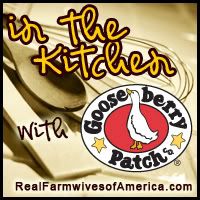 This post was linked to:
Melt in your Mouth Monday
on Make Ahead Meals for Busy Moms,
2 Maids a Baking
on 2 Maids a Milking,
Tasty Tuesday
on Beauty and Bedlam,
Tempt My Tummy Tuesday
at Blessed with Grace,
Hearth N' Soul
,
Made from Scratch Tuesday
on From Mess Hall to Bistro,
It's a Blog Party
,
Dr. Laura's Tasty Tuesday
,
33 Shades of Green