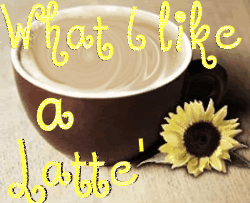 I am a sucker for a fun kitchen gadget that makes life easier, so when Ott, E's Aunt showed me this Pineapple Corer/Slicer around Easter time, I was so excited to try it out. I'll admit cutting fresh pineapple was always a little intimidating so I usually bought it canned and pre-sliced. Now with this new apparatus I was encouraging the whole family to eat more pineapple all weekend so I could continue using it. (Pineapple on your Easter ham, Pineapple for breakfast, hey why not Pineapple for an afternoon snack??)
You get the picture
. Needless to say I Liked it a Latte' and was quick to go buy one for myself.
I found this particular model at Bed, Bath & Beyond, but I'm sure most stores with larger kitchen sections carry these. This slices and cores the pineapple into rings. It also came with an attachment to cut the slices into pineapple wedges.
To use, start by cutting the top off your pineapple.
Then place your corer in the center of the top of the pineapple. Start to twist the pineapple clockwise and press into the flesh of the pineapple. Continue twisting until you reach the bottom of the pineapple (you'll start to feel get harder as you reach the bottom. Then use the handle of your slicer and pull straight up and all of your slices will come up and out of the pineapple.
To remove the pineapple from your slicer simply push the button at the top near the handle and the handle will come off. Then you can turn upside down and slide the pineapple rings into a bowl or plate.
As you can see the core of the pineapple is still left inside the hollowed out pineapple. At this point you can discard the pineapple or...... you can cut out the core and fill it back up with a party drink and you have a festive glass for your next luau party. (wink)
Wondering why I'm cutting up pineapple in August???? Well come back next week for
Canning Week
and you will see me use this pineapple in an awesome jam recipe you will want to try for yourself. All week long we will be sharing recipes and tips on how to can and have a linky party and give-a-ways too. You won't want to miss it!!!!