One of the recipes Ott, E picked out from Gooseberry Patch's Homemade Christmas Cookbook for a slow cooker recipe. So of course I was happy to fix this on a work day so we could come home to an already cooked meal. Ott, E selected a recipe for a Holiday Pork Loin, but as you know around this house we eat a lot of lamb, so I simply replaced the two pounds of boneless pork loin it called for with two pounds of lamb chops. All the other ingredients complimented the lamb well and it was easy to throw in the crock pot on the way out the door to work and come home to a great tasting meal. (For more enticing pictures of this dish please click
here
.)
Here's how I made this Holiday Loin.
Ingredients:
1 cup apple juice
2 pounds of lamb chops (or a 2 lb. boneless pork shoulder)
1/2 tsp. salt
1/4 tsp. pepper
3 Granny Smith apples, cored and sliced
1 butternut squash, peeled and cubed
12 package cranberries
2-3 T. brown sugar
1/2 tsp. cinnamon
1/2 tsp. nutmeg
1/4 tsp. dried sage
Pour apple juice in crock pot. Add salt, pepper, apples, squash, cranberries, brown sugar, cinnamon, nutmeg and sage. Stir and then place lamb chops on top. Cover and cook on low for 6-8 hours.
Serves: 6-8
I also liked that is called for butternut squash which are in season right now. Ott, E liked the flavors of this dish and liked that it was almost a complete meal in one pot, since the squash and apples could serve as a side dish for this meal.
Four recipes down and six to go, then I will give away a copy of this cookbook to one of you lucky readers.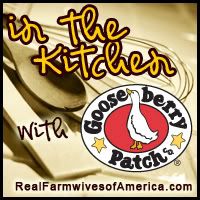 This post was linked to:
Hunk of Meat Monday
on Beyer Beware,
Melt in your Mouth Monday
on Make Ahead Meals for Busy Moms,
2 Maids a Baking
on 2 Maids a Milking,
Tasty Tuesday
on Beauty and Bedlam,
Tempt My Tummy Tuesday
at Blessed with Grace,
Hearth N' Soul
with A Moderate Life,
Made from Scratch Tuesday
on From Mess Hall to Bistro,
It's a Blog Party
,
Dr. Laura's Tasty Tuesday
,
33 Shades of Green