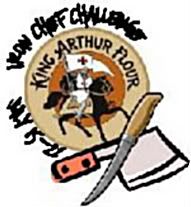 The theme for July's Iron Chef Challenge is Flour, sponsored by King Arthur Flour.
Rules: Chefs (aka bloggers) will prepare something using King Arthur Flour in the recipe, reference what variety of King Arthur Flour they used and link to King Arthur's website within their post. Be sure to include the recipe along with pictures and any tips on cooking the dish. Posts must include Ott, A's Iron Chef Challenge Badge (code found in sidebar).
Prize: The winning post will be announced on this blog the week of July 25th and the winner will receive the newly republished Original King Arthur Flour Cookbook and five signature flours (all-purpose, bread, white whole wheat, premium whole wheat, and unbleached cake).
Judge: Mary Jane Robbins. Mary Jane is a member of the King Arthur's blog team and loves to create decorated cookies for the catalogue, and blog about all kinds of foods, especially sweet treats.
Big thanks to
King Arthur Flour
for sponsoring this event! Be sure to check out King Arthur Flour on
facebook
and twitter (@KingArthurFlour).
The Linky will be open from July 15th - 22nd.
Good luck and may the best chef win!!!