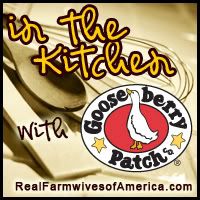 I am super excited to announce that my time has finally come to get a cookbook from Gooseberry Patch. You see
The Real Farmwives of America & Friends
are cooking their way through random Gooseberry Patch Cookbooks and then giving them away to our readers. It's a project called "In the Kitchen with Gooseberry Patch." But here's the deal.... I need
your help
in deciding which cookbook I'm going to cook from. There are three cookbooks to choose from so please head over to
The Real Farmwives Blog
and
vote
for which Cookbook you like best or think I should cook out of by leaving a comment on their blog.
Once you decide I will hand the cookbook over to my husband, Ott, E and let him pick 10 recipes out of that book. I will cook those 10 recipes for him and share those with you here on this blog. So you, my dear readers, will get a man's take on what sounds good, what looks good and what taste good. With each recipe I will report exactly what he thought of it and then you will know if your husbands and kids will like it as well. And the best part is that after all 10 recipes have been fixed, we will be giving away a copy of that cookbook to one of you. So you too can fix tasty Gooseberry Patch recipes for your own families and add one of their great cookbooks to your collection.
Speaking of Ott, E..... he celebrated a birthday this past weekend and I baked him this decadent birthday cake. You see, Ott, E loves Reese's Peanut Butter Cups, so what better ingredient and decoration to use?!?!
I baked a chocolate cake and lined the bottom layer with mini Reese's Peanut Butter Cups. Then put the top layer of cake on top of that.
I then iced the cake with chocolate butter cream frosting.
And then used a peanut butter cream frosting to decorate with. Lastly, I topped the cake with a few more mini Reese's Peanut Butter Cake. It's super rich and perfect for the chocolate/peanut butter lover in your life.