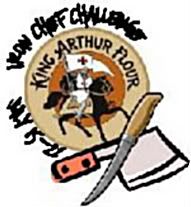 But not just any flour.....King Arthur Flour. Whether you baking up breads, cakes, cookies or muffins there's a good chance you are baking with flour, so why not use King Arthur Flour?!?!
King Arthur Flour is a national company known for a wide selection of top-quality flours and grains - for home and professional bakers alike. King Arthur is also the nations oldest flour company founded in 1790.
You can learn more about King Arthur Flour and the line of products they offer on their
website
, or follow them on
facebook
and twitter (@KingArthurFlour).
In order to participate in this month's challenge simply blog about a recipe that uses King Arthur Flour. Be sure to include what specific variety of King Arthur Flour you used and then include a link to the
company's website
for that specific variety of flour in your blog post.
The guest judge for this month's Iron Chef Challenge will be Mary Jane Robbins. Mary Jane is a member of the King Arthur's blog team and loves to create decorated cookies for the catalogue, and blog about all kinds of foods, especially sweet treats.
The prize for this month's Challenge will be the newly republished Original King Arthur Flour Cookbook and five signature flours (all-purpose, bread, white whole wheat, premium whole wheat, and unbleached cake).
The Recipe Linky will open on this blog on July 15th and run through July 22nd. The winner will be announced the week of July 25th!
Big Thanks to King Arthur Flour for being our sponsor and we look forward to all the tasty recipes you will link up next week!