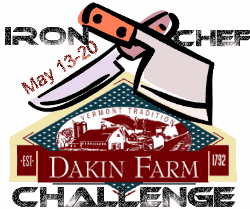 The Winner of May's Iron Chef Challenge Ham, sponsored by Dakin Farm is......

Judge and President of Dakin Farms Sam Cutting IV had this to say about the winning recipe. "While each recipe looked great and there are several favorites, I chose #3 Wild Rice Quiche w/ham as my favorite submission. There are several reasons why this is my top pick. First off, I love all of these ingredients and how these flavors work together. Whole grain wild rice is such a special food with its crunchy, firm texture and nutty flavor. It goes so well with our smoky sweet Dakin Farm ham, mushrooms, onions, peppers, and Swiss cheese in a quiche. Also, I feel this a relatively healthy choice with the combination of nutritious whole grain, vegetables and lean protein. It is a filling and hearty recipe which is also extremely delicious!"

Congratulations to the winner who will be receiving a $50 dinner ham from Dakin Farms. And, big Thanks to Dakin Farms for being our sponsor this month. Be sure to follow them on facebook for some great products and recipes. I hope you will all come back next month with some great recipes that call for Milk as June is National Dairy Month and Dean Foods will be our sponsor!!!