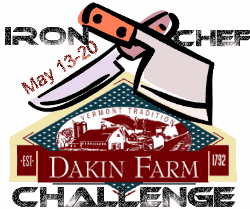 In honor of this weeks
Iron Chef Challenge: Ham
I am sharing a recipe I recently found for a Cranberry-Raspberry Marinade. Ham Steaks on the grill in the summertime are a favorite around our house so when I found this recipe in a magazine I thought this would be a nice twist and found the flavors of the berries really enhance the taste of the ham. The added spices give it a nice kick as well.
For my Cran-Ras Marinade I mixed up the following ingredients:

1/4 cup Cranberry Balsamic Vinegarette, 1/8 cup oil, 1 T. Soy Sauce, 3 T. Brown Sugar, 6 T. Raspberry Jam, 1 tsp. cinnamon, 1/2 tsp. ground ginger, 1/2 tsp. salt, 1/2 tsp. pepper, 1/4 tsp. minced garlic, 1/2 tsp. onion powder, 1/2 tsp. mustard powder.


Mix ingredients and pour over Ham Steaks.

I use a ziplock bag to store my meat and marinade in the refrigerator for 4-8 hours.

Then grill the steaks to your desired level of doneness over medium high heat.


Iron Chef Challenge Linky Party, or link up one of your own.

This post was linked to: Hunk of Meat Monday on Beyer Beware, Mingle Monday-I Made That on Add a Pinch, Made it on Monday on Larks Country Heart, Melt in your Mouth Monday on Make Ahead Meals for Busy Moms, This Weeks Cravings on Mom's Crazy Cooking, 2 Maids a Baking on 2 Maids a Milking, Tasty Tuesday on Beauty and Bedlam, Tempt My Tummy Tuesday at Blessed with Grace, Hearth N' Soul with A Moderate Life, Delectable Tuesday on Home Sweet Farm, Made from Scratch Tuesday on From Mess Hall to Bistro.