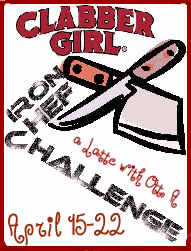 This month winners of the Iron Chef Challenge featuring Clabber Girl Baking Powder is..........


Philippines Inipit
from Pinay in Texas Cooking Corner

Judge April Osburn; Clabber Girl's Culinary Classroom Chef had the following to say about this winning entry.
"I chose this recipe/blog because I thought the recipe was unique and the blog was well written. She told the history of the recipe and had great photos. She made several references to Clabber Girl Baking Powder and even had a link to our website."

Congratulations to the winner who will be receiving a Clabber Girl Gourmet Gift Basket. And, Big Thanks to Clabber Girl for being our sponsor this month. Be sure to follow them on facebook for all the latest tips, news and recipes. And I hope you will all come back next month with some great Ham recipes and our sponsor will be Dakin Farms!!!