Firstly, I wanted to give a shout out to
Everyday Ruralty for featuring me in her Barn Chicks who blog
section today. Head over there to learn more about my family's farm as well as other chicks who blog about life on the farm. (And she totally understands my obsession with my Kitchen Aid Stand Mixer as she has two!!)
Around our house we are on a peanut butter kick, so this week I bring you a recipe for peanut butter brownies.

Peanut Butter Brownies
1 1/2 cups sugar
1/2 cup peanut butter
3 eggs
1/2 cups butter, softened
1 tsp. vanilla extract
1 cup flour
1/2 tsp. baking powder
1/2 tsp. salt
6 oz. semi-sweet chocolate chips and peanut butter chips

Preheat oven to 350 degrees. In a large mixing bowl, cream together sugar, peanut butter, eggs, butter and vanilla. In a separate bowl, mix together the flour, baking powder and salt. Add the dry ingredients to the wet ingredients and mix until smooth. Stir in the chocolate and peanut butter chips. Pour into an ungreased 9 x 13 pan. Bake for 35 minutes.


Some variations you could add to this recipe would be only using chocolate chips instead of both chocolate and peanut butter chips. Also, I used creamy peanut butter, but if you used chunky that could give some more flair as well.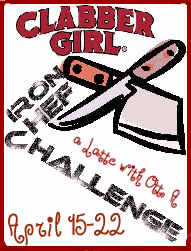 This recipe called for baking powder which ties in nicely with my Iron Chef Challenge for this month, featuring Clabber Girl Baking Powder. Please check out the other great recipes linked up or link up one of your own.

This post was linked to: Melt in your Mouth Monday on Make Ahead Meals for Busy Moms, 2 Maids a Baking on 2 Maids a Milking, Tasty Tuesday on Beauty and Bedlam, Tempt My Tummy Tuesday at Blessed with Grace, Hearth N' Soul with A Moderate Life, Delectable Tuesday on Home Sweet Farm, Made from Scratch Tuesday on From Mess Hall to Bistro.