Like most cakes I bake as a newlywed; this one has a story behind it. But I'll get to that after I show you how I made a round cake look like an Easter bunny. In the interest of time I used a Duncan Hines Lemon Cake mix and tub of frosting. The yellow lemon color just looked fun and spring like to me.
After mixing up my cake, I poured the batter into my round cake pan. I have a big enough cake pan that it holds an entire cake mix. (This is really nice as it saves me having to make 2 separate layers.) I baked the cake and flipped it out onto a wire rack to cool.
After it cooled I cut the cake in half. I then set the two halves of the cake cut side down on a cake plate. (I placed some icing on the inside of the cake halves to help them stick together.)
I then iced the cake entire cake with a tub on Duncan Hines Icing.
Next it is time to decorate. I used a big white marshmellow as the tail.

Then I made ears out of scrapbooking paper. I simply cut the paper to look like ears, pinched the paper a little and stuck them in the cake.











Lastly I took shaved coconut and added some green food coloring. (This is going to be my grass for the bunny.)

I placed that on the cake plate around my bunny cake. I then added some more jelly beans to look like Easter Eggs around our bunny.

Now isn't that a quick and easy way to make a cake look like a bunny. This cute cake could make a fun centerpiece or tasty dessert at your holiday table.


"No" I said, while acting a little surprised at his comment. "I was just going to bake a cake."
"Oh" he said. "My mom would make a bunny cake at Easter time." I told him I didnt' have a bunny shaped cake pan and he explained that she didnt' either, she would just cut a round cake to make it look like a bunny. But he didn't know how she did it.

So I thought and thought and when my cake was done baking this is what I came up. I was quite proud of myself for thinking this up. I called Ott, E out to the kitchen to take a look at it. I asked him what he thought and he says, "Well it looks good, but thats not the way my mom makes it."
:) (All I can do is shake my head.) :)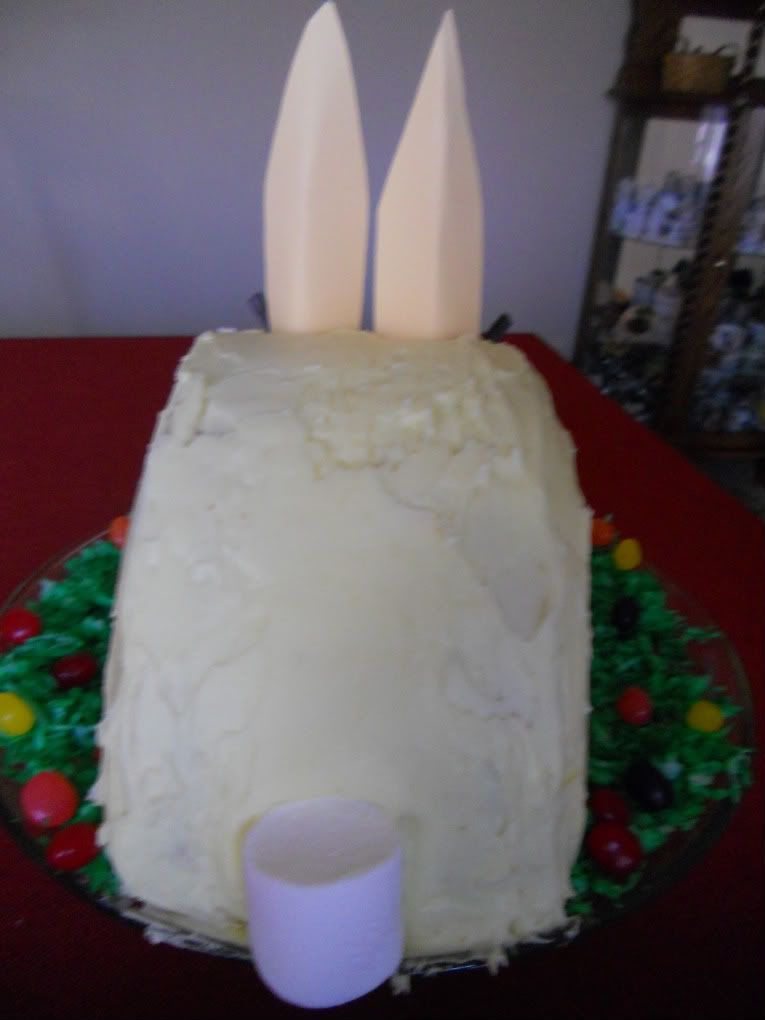 This post was linked to I'm Lovin' It on Tidy Mom, Tip Junkie Tuesday, Made by you Monday on Skip to my Lou,