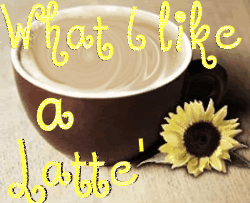 Well last week I shared a little about the
baby lambs being born
on my family's farm. Back in the days when I was in 4-H we also raised Simmental Cattle. Once my brother and I were out of 4-H we sold off all the cows and just focus on the sheep now. Recently, I have seen some other bloggers posting pictures of the calves being born on their farms. While I don't miss all the work associated with raising cows I do miss seeing the calves. With Spring being less than a week away "What I'm liking a Latte this week" is newborn calves.

First up I wanted to stop by and see Katie from the blog Griggs Dakota She had a set of twin calves born. What a big challenge for that mother to take on. But I'm sure the rancher is up for the challenge to help out.

These appear to be Hereford Cows (one of my favorite breeds with that red and white color) and Katie has some more great pictures and information on her blog to share about them.


Next up we visit Marybeth from the blog Alarm Clock Wars where she has a bottle baby named Charlie. As you will learn from Marybeth's post Charlie's mother did not have enough milk to nurse the calf by herself so he is getting some supplement through a bottle.

Morning and night, Marybeth is out at the barn checking on Charlie and all the other cows and calves.
This week is National Ag Week and a great time to thank farmers for working hard everyday to put safe and realiable food on our tables. Ag touches every aspect of your life from the clothes you wear, to the desk you sit at, to the fuel you put in your car and crayons your kids color with.
Big thanks to Katie and Marybeth for letting me use pictures from their blogs. Please stop by both of these blogs and learn more about how these farmers take care of their animals.