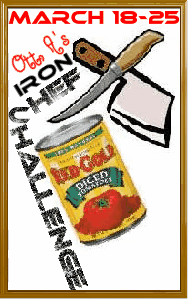 The themed ingredient for March's Iron Chef Challenge is.............
canned tomatoes

Rules: Chefs (aka bloggers) will prepare something using a canned tomato product, post a recipe along with pictures and any tips on cooking the dish. Posts must include Ott, A's Iron Chef Challenge Badge (code found in sidebar.)

Prize: The winning post will be announced on this blog on March 28th and the winner will receive a cookbook from the sponsor; Red Gold.

Also this month we will be having a drawing for a cookbook as well, so you have two ways to win. Each recipe linked up to this party will recieve one entry and the winner will be announced on the 28th.

Big thanks to Red Gold for sponsoring this event. Be sure to check out them out on facebook and twitter for lots of other great tips and recipes.

The Linky will be open from March 18th - 25th.
Good luck and may the best chef win!!!