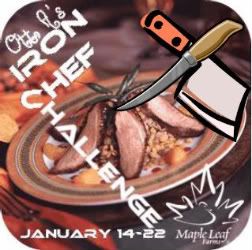 There were
26 delicious recipes posted during January's "Iron Chef Challenge" with Duck
as the themed ingredient. Guest Judge Scott Swaidner from Maple Leaf farms had a tough time picking a winner. The recipes, pictures, and stories of families eating duck (in some cases for the first time) were of such quality and creativity that
Maple Leaf Farms
decided to award two prizes; a 1st place and a runner up. The winner will receive the $150 worth of duck products and the runner up will receive four boneless duck breasts.
Posted by: Girlichef
Guest Judge Scott said, "I selected this recipe as the winner for its hearty and creative use of a traditional roast whole duck, plus all of its good tips for cooking with duck."
And the runner up recipe was..........
Posted by: My Merry Cooking
Guest Judge Scott said, "This recipe is refreshingly simple and light with great emphasis on flavor. Excellent use for boneless duck breast."
And thanks to all the chefs (aka bloggers) who linked up!!! I hope you will be back next month for the next round of the "Iron Chef Challenge!"