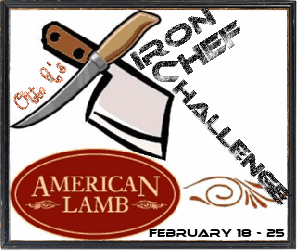 The themed ingredient for February's Iron Chef Challenge is.............

Rules: Chefs (aka bloggers) will prepare something using Lamb Chops, post a recipe along with pictures and any tips on cooking the lamb chops. Posts must include Ott, A's Iron Chef Challenge Badge (code found in sidebar.)

The winning post will be announced on this blog on February 28th and the winner will receive 6 servings of Fresh American Lamb Chops, provided by our sponsor the American Lamb Board.



Big thanks to the American Lamb Board for sponsoring this event. Be sure to check out them out on facebook and twitter for lots of other great tips and recipes on cooking with lamb.

The Linky will be open from February 18th - 25th.
Good luck and may the best chef win!!!