This past weekend we hosted a large dinner party at our house. And in true Ott, A hostess style there were fun invites, appetizers, a fabulous meal, games and of course....
Dessert!
While I was planning the party I knew I wanted to do something fun and different for dessert. I wanted something that would be another activity for people to do while they were over, so I came up with this idea.
A Cupcake Fondue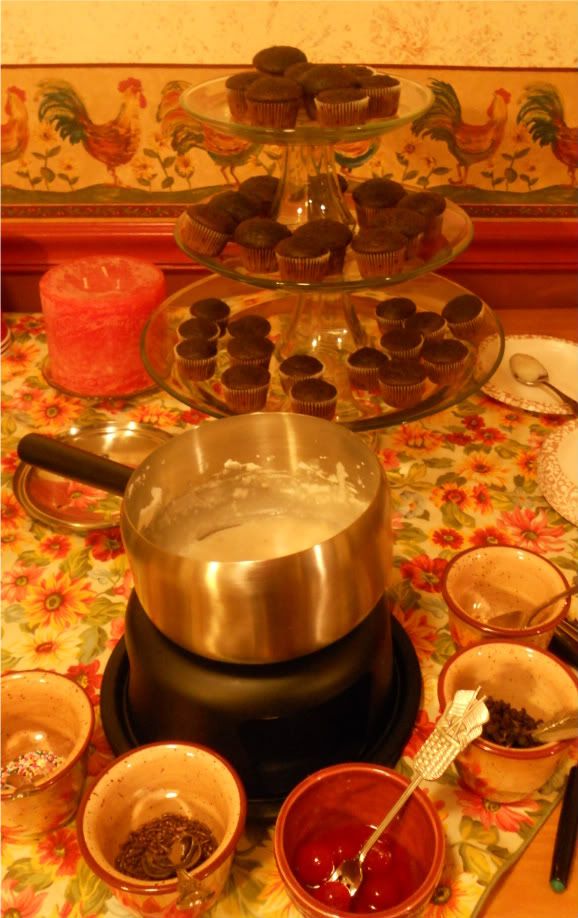 I baked up a bunch of mini cupcakes and displayed them on a 3 tiered cake stand. By using the mini cupcakes guest could eat 2 or 3 and not feel guilty.


I then whipped up my icing and put it in my fondue pot.
My icing recipe consisted of:
2 cups powdered sugar
1/4 cup milk
2 T. light corn syrup

I had the fondue forks layed out for guest to use to dip their cupcakes. I also had several different toppings in individual bowls for our guest to select from to put on top of their cupcake after it was dipped in the icing.
There were chocolate sprinkles, rainbow sprinkles, mini chocolate chips, marcino cherries and nuts.

Our guest really enjoyed this after dinner activity. It was pretty easy to set up and I think you'll agree a lot of fun.
If I do this again I would make more than one variety of cupcake giving guests yet another option for their fondue creation.

Please note I got this idea off of the Bake it Pretty Blog featured on Tip Junkie