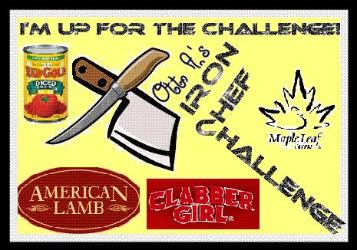 The New Year is here and what better way to kick off 2011 than with a new Linky Party;
Ott, A's Iron Chef Challenge

.
Perhaps your New Years Resolution is to get healthy, what better way than to try some new foods. Or perhaps your resolution is to blog more; this would be a great project to hold you accountable to getting your posts up.
I'm sure you've seen the TV show "Iron Chef" on the Food Network. They've got a couple of chefs, a themed ingredient and then a judge to review what they make. Now think of that show, where you; the blogger are the chef. Starting in January; each month will have a sponsor, themed ingredient, guest judge and prize. Simply share a recipe using the themed ingredient, blog about it, and link up. I have lined up the sponsors and guest judges who will award a Fabulous prize to the winning post.

Rules: Posts will be judged based on the recipe shared, as well as the writing style and pictures included in the blog post. Recipes can be your own, or one form another source, but you must fix it yourself and share it on your blog. Blog post must contain the months featured sponsors badge at the end of their post. (Example: January's post must have the Iron Chef Duck badge at the bottom. Badge located below this paragraph. See sidebar for code.) All the details and dates for the first four months are listed below. It's going to be a lot of fun and will give you a great opportunity to try new food and new recipes (that's what makes it a challenge) and you might even learn a little more about where your food comes from or the companies that make it along the way.
Judge: Chef Scott Swaidner
Prize: 8 Duck Breasts, 4 Roast Half Ducks, 2 Pkgs. Duck Leg Confit plus a Meals to Remember Cookbook
(valued at $150)
February 18-25
Sponsor:
American Lamb Board
Themed Ingredient: Lamb Chops
Judge: American Lamb Board Panelist
Prize: Fresh American Loin Chops to feed a family of 6
March 18-25
Sponsor:
Red Gold
Themed Ingredient: Canned diced tomatoes
Prize: Red Gold CookBook
April 15-22
Sponsor:
Clabber Girl
Baking Powder
Themed Ingredient: Baking Powder
A big thanks to all of our sponsors!!!! If you have any questions regarding this contest please let me know. Feel free to post the "Iron Chef Challenge" Badge in your sidebar if you are up to the challenge!