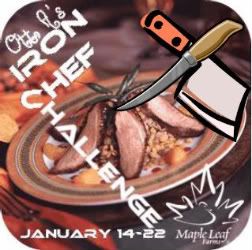 The Iron Chef Challenge will kick off this Friday, January 14th, with the themed ingredient being Duck.
Duck is comparable in fat and calories to a skinless chicken or turkey breast, yet it has a rich, bold flavor.
Maple Leaf Farms
is the sponsor for this months contest and they raise White Pekin duck. This family owned farm, located in Northern Indiana, dominates the North American Duck Market.
The guest Judge for the contest will be Chef Scott Swaidner.
Scott Swaidner is a Corporate Chef at Maple Leaf Farms, Inc. He is a graduate of the Culinary Institute of America in Hyde Park, New York, and worked in restaurants before joining Maple Leaf Farms. As a part of their Research & Development Department, Scott has created many duck recipes and developed new duck products.
The linky will be open Friday, January 14th and run through January 22nd. Chef Swaidner will review all the recipes and posts and judge those based on quality of recipe, write-up and pictures. The winner will be announced on this blog on February 1st.
The winning post will receive a prize of: Maple Leaf Farms Duck Products: 8 Duck Breasts, 4 Roast Half Ducks, 2 Pkgs. Duck Leg Confit plus a Meals to Remember Cookbook (valued at $150).
This contest is a great way to try Duck for the first time or get new ideas on how to prepare it. Or, if you've never tried duck then perhaps all these pictures and recipes will inspire you to do so.
Maple Leaf Farms has a great
website
with lots of consumer information related to Duck. They are also on
Facebook
and Twitter; @MapleLeafFarms. Be sure to stop by and check them out!!!