This past weekend I got together with some of my blogging buddies for a giant FREEZE-O-RAMA.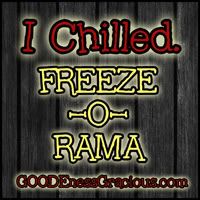 12 Bloggers
12 Recipes
6 Hours
1 Kitchen
No Mercy
That's Right! Twelve bloggers each brought a recipe and all the ingredients needed to make it as well as all their pots, pans, spoons and spatulas into one kitchen and for 6 hours baked up a storm. Each person made their recipe 12 times and put them in a disposable freezer container to trade with the others to be taken back to their homes and frozen. These freezer meals could then be thawed and cooked at a later date.
Since my
family raises sheep
I decided to make Shepherds Pie with lamb from our freezer. It was my hope that this would be a great way for some people to try lamb for the first time or try a new way to prepare lamb. I got this recipe from my brother (of all places) when he returned from Ireland after studying abroad.
Now I cook a lot, but normally that is for 2 people, so I'm not used to buying food in bulk, or making large quantities at a time. My trip to the grocery store resulted in 4 pounds of mushrooms, 5 pounds of carrots and 15 pounds of potatoes. I'm also used to spreading out when I cook because I have a lot of counter space in my
red kitchen at home
, so sharing counter space, stove tops and a strainer was a bit of a challenge for me at times. But the farm girl in me recognized the task at hand and pulled back her hair, pushed up her sleeves and settled in to slaving over a hot stove for the afternoon.
Here is the recipe for how I make my Shepherds Pie. You can make this with either lamb burger or hamburger and can click on this card and print off your own recipe.
I started with chopping my vegetables. And then browned my lamb burger and onions.
Next I mixed up my pie filling and added the Burger and onions to it. I then let it simmer for 20 minutes.
Then I prepared my freezer pans by spraying them with cooking spray and ladeling in the shepherds pie.
I then topped it with mashed potatoes and sprinkled cheese on top.
To prepare my meal for the freeze I put press and seal wrap down on top of my shepherds pie to keep air for getting to my food.
I then wrapped aluminum foil on top and labeled it as to what it was. Now it is ready to be put in the freezer. When you are ready to eat simply take it out of the freezer and allow it to thaw for about 24 hours. Then take the press and seal wrap off and stick in the over for 20 minutes at 400 degrees.
At the end of the day I had prepared all 12 meals and I was exhausted. But I had a great time cooking with my blogging buddies and have a freezer full of meals to try and recipes to make them again for myself. Be sure to stop by Cris's blog to see what the others made and more pictures of the fun times we had.