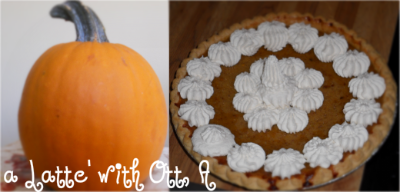 Today I am sharing a recipe that has developed into somewhat of a tradition for Ott, E and I. We have quite the story to tell about why we like to make a pumpkin pie from a real pumpkin. (That's right, no cans of pumpkin in my kitchen this is the real deal!!) But before I get to that story I will share how I make the pumpkin puree', pie filling and a yummy maple bourbon whip cream topping.
Did you know the average can of pumpkin pie filling can be as little as 10% pumpkin with the rest being squash? Check the label the next time your at the store. I use a sugar pie pumpkin which is a smaller 3-5 pound pumpkin with a soft skin. I take the stem off the pumpkin and cut it in half.
I then scoop out the seeds and rub vegetable oil on the flesh and skin of the pumpkin. I place the pumpkin flesh side up on a baking sheet and put in the over for 1 hour at 425 degrees.
I then let the pumpkin cool for about 30 minutes before I scoop out the insides.
Next I use a hand blender to mash and puree' the pumpkin to a smooth and creamy consistency.
Then I add the rest of my ingredients and pour the filling into a pie crust. And bake for 40 minutes at 350 degrees. Here is a recipe card with all the details for you.
Once the pie comes out it of the oven I let it cool on a cooling rack.
For a yummy whip cream topping I make a Maple Bourbon Whip Cream. The maple and Carmel flavors really bring out all the spices in the pie and make for a nice compliment to this dessert.
Ingredients:
1 1/4 cup heavy whipping cream
2 T. Maple Syrup
2 T. Bourbon
Directions: Add ingredients in a bowl and mix until stiff peaks form. Spread on Pie.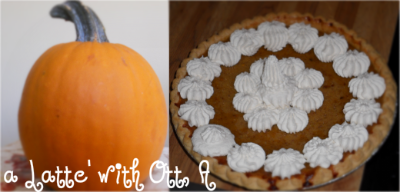 Now for story I promised you about why Ott, E and I make our pumpkin pie this way.
Ott, E and I had just started dating and he mentioned one time that his favorite food item was pumpkin pie. So naturally I wanted to impress him with my culinary skills and I had this great idea to make him a pie from a real pumpkin. I had never done this before, but had baked lots of pies and in my mind this was the ultimate to baking something from complete scratch. I mean any one can open a can of pumpkin and pour it into a shell but only a true modern day susie homemaker could take a pumpkin and turn it into a pie. Right?!?!?
So I went over to his place with my baking supplies, and started to make it. He helped and watched a football game while it baked. Everything went according to plan and out of the oven came a beautiful pumpkin pie. I sat it on the counter top for awhile to cool and then we cut it. He took a bite or two and I asked him how it was. He said....... fine.
Fine?????
Fine!!!!!!
JUST.........FINE?!?!?!
(In my head I'm thinking only woman like Martha Stewart even attempt to bake a pie from a pumpkin let alone pull it off. I slaved all day on this, it taste amazing it would win hands down at any county fair. It's got a flaky crust, a spice tasty, great color, holds it shape, creamy texture.....and all you can say is..... fine.) At this point a few of those words might have gone from just thoughts in my head to actual words that I spoke. So he might have sensed I was a little tense at the thought that this pie was just
fine
and not
the best thing he has ever tasted
. In Ott, E's defense he said he likes his pumpkin pie cold and this was still a little warm so maybe that was throwing off the taste.
So I suggested sharing a piece with my brother who was on campus at the time. We drove over to his place and on the way there I said; I bet my brother will love this pie and he will probably think it tastes a lot better than just.....
fine.
Sure enough I hand him a slice and he raves about the pie. He thinks it taste even better because it's warm. He went on and on and on about how good this pie was and the whole time I just smiled.
When we got back in the car and drove back to Ott, E's place I said, "See he liked the pie."
Ott, E said; "I never said the pie was bad."
"No." I said. "You said it was "just fine"."
This post was linked to:
Love the Pie party
on Tidy Mom,
Sunday Recipe Swap
on Remodelaholcis,
Metamorphosis Monday
at Between Naps on the Porch,
Just Something I whipped up Mondays
on the Girl Creative,
Made by You Mondays
on Skip to my Lou,
Motivate Me Monday
at Keeping it Simple,
Made it Mondays
at The Persimmon Perch,
It's a Blog Party
,
Anything Related Tuesday
at All Thingz Related,
Anti-Procrastination Tuesday
at New Nostalgia