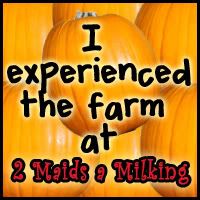 This past weekend Ott, E and I went to
Kelsay's Farms
, just south of Indianapolis on Hwy. 65, for some Agri-tainment. What's Agri-tainment you ask? Well that is a chance to have some fun on a real life working farm. Kelsay's Farm is a Dairy Farm where they milk 500 Holstein cows a day. Every weekend in October they open their farm to the public to come see what their barns and milking parlor are like and learn a little it more about cows, milk and agriculture. But, also there is a lot of fun to be had on their farm as well.
Most times when I talk about growing up on the family's farms I talk a lot about all the work we have to do. What I haven't had a chance to talk about is all the fun we had growing on the farm as well. At times it would take a little imagination but we always found something to climb around and play with and turn into a fort or race car or something. Kelsay's farms gives their visitors this same type of fun on the farm experience with their Strawbale Mountain. Kids can climb around the bales and there are tunnels and slides as well.
Even big kids like Ott, E and I got in on the fun!!!!
Of course they have some cute Holstein calves to pet.
There is also a corn maze, a rope maize, some bins full of corn to play (similar to a sandbox) and a train ride.
Another thing my little brother and I did growing up was participate in the local pedal pull. This would be held each year at the county fair and kids would sit on one of those toy tractors about the size of a tricycle which pulled a waited sled and pedal as hard as they could. The further you pedaled the more weight and harder it got. Ironically, when we were little my brother had one of these toy tractors with a wagon. My parents would put cement blocks in the back of the wagon and we would pedal around the driveway pad pulling this load in order to practice up for the county fair.
Apparently Ott, E had never seen or heard of a pedal pull or a tractor pull before so this was all very new to him. At Kelsays Farms they had an adult pedal pull, so I was quick to sign Ott, E up to participate so he could experience this. He pulled in the mens division at 80 pounds of weight.
What a great way to spend an Autumn afternoon in Central Indiana and if you are in the area I highly encourage you to load up and kids and head down to Kelsay's for a visit. Be sure to try their milkshakes while your there.
Big thanks to Kelsay Farms for the free tickets for both Ott, E and myself.
Be sure to check out the blog 2 Maids a Milking for more info and details about Kelsay Farms year round.