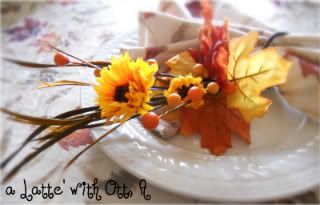 While I was at the mall in one of the larger department stores I found a great new tablecloth for fall and napkins to match. I also found these napkin rings which would coordinate nicely with the linens, however, there was one small problem..... they didn't have sunflowers on them. No fall table of mine would be complete without sunflowers, so as I stood there in the store looking between the linens and napkin rings the thought occurred to me.
"I could make my own napkin rings which would match perfectly and still have sunflowers."
So off to the register to buy then linens and then on to a hobby store to buy the materials I needed. I selected a variety of fall pics in the colors of my tablecloth, as well as some brown floral tape. I already had scissors and wire cutters at home so I was all set to make these festival fall napkin rings.
Then arranged the pieces in my hand the way I wanted them to look.
Then I took a piece of wire from on of the pics and wrapped it around my bundle tightly but only a couple of times. I left about an inch sticking out to the side which I would use later.
The longest wide wire I looped up and made a circle with. The took the inch of wire I left sticking out above and wrapped that around the wire of the circle I had just made.
Next I used a pair of wire cutters to snip off the excess end of the other wires in my arrangement that stick out past the end of the circle.
Finally I took some brown floral tape and wrapped the ring from where the wires were wrapped all the way around the ring to give in a uniform color and to hide the wires.
And as you can see it made for a cute napkin ring to match my fall tablecloth.
If you were wondering about the cost of this napkin ring. In the department store they were priced at $8.00 each. I bought enough supplies to make 6 napkin rings for about $12.00 So it did save me some money and gave me the sunflower accent I wanted.
This post was linked to:
Modern Craftswoman Monday
on Tools are for Woman too,
The DIY showoff your project parade
,
Market Yourself Monday
on Sumos Sweet Stuff,
Make it for Monday
at the Cottage Instincts,
Motivate Me Monday
at Keeping it Simple,
Craftastic Monday
on Sew Can Do, Just
Something I Whipped Up Monday
on the Girl Creative,
Mad Skills Monday
on Mad in Crafts,
It's So Very Creative
on It's So Very Cheri,
Socialize with Me Monday
,
All Thingz Related
,
Show and Tell Wednesday
on Blue Cricket Designs,
It's a Blog Party
,