I grew up in family with a strong Agricultural background. Both of my parents came from families with farming in their blood and still own farm ground to this day. I spent countless hours working on the family's farms, studying agriculture in college and now work in the agriculture as a profession. Because of my strong farming roots I have a passion for the tradition, technology and trade that is American Agriculture. I enjoy sharing with others information and facts about where their food comes from, how it is produced and how efficient American farmers are. In random posts on this blog I have shared bits and pieces of my agriculture knowledge and experience. It's no secret I love to eat, cook, bake, can and grill and thanks to agriculture I can do all those things with confidence because I know exactly where my food comes from and how it is produced. So in today's post I simply share with you the story of my family, their farms and how I grew to appreciate Agriculture and make a career out of it. Don't let the business suit and heels fool you as it took a lot of hard work, studying, and yes even farm chores (in muddy work boots) to get to where I'm at today.
Growing up I often times heard the story of when my great grandfather, on my mothers side, bought a farm in Fulton County, Indiana in 1919. He raised crops, milked cows and had a flock of purebred Shropshire Sheep. As fate would have it, his daughter (my grandmother) ended up marrying the neighbor boy whose farm lay adjacent to theirs thus merging the two into one farm of 150 acres. Today on this same farm they still raise crops and purebred Shropshire Sheep.
My great grandfather, on my father's side of the family, was a tenant farmer on a rather large farm for that time period in Marshall County, Indiana where they raised crops and cattle. His son (my grandfather) worked alongside him on the farm until he graduated from high school and went to Purdue University where he graduated in 1947 with a degree in Agriculture. (His graduation from Purdue is an important item to note which you'll see throughout the story.) He worked in education, and after a few years of teaching he purchased a smaller farm in Fulton County, Indiana and raised corn, soybeans and Christmas trees.
My father went to Purdue and graduated in 1974 with a BS in Forestry. He still works as a District Forester for the state of Indiana and assists landowners with timber stand improvement, tree plantings and timber sales. As a second job he took his fathers Christmas tree business and developed it into more of a Landscaping business. He raised a variety of ornamental shrubs and evergreens and did installation work as well. He married my mother in 1978 and they lived in Fulton County to be near both sets of parents.
Now we are entering the part of the story where I come in.
Growing up I spent a lot of evenings and weekends either helping my dad with the landscape nursery or helping out on my maternal grandparents farm with their livestock. When I was little I get easy jobs like filling water buckets or watering seedlings. And as I got a little order the jobs got a little bigger like feeding the livestock, pruning the bushes, unloading hay, moving potted shrubs, etc. There was always plenty of work to be done either place but whenever I was given the option of helping out with the landscaping or helping out with the livestock…. I'd choose the livestock every time.
With my interest in animals I enjoyed showing livestock in 4-H. I showed sheep all 10 years, cattle 2 years and hogs 5 years, along with a couple of rabbits, some geese and one year some chickens and turkeys. I never minded having to feed the animals, walking them, shear or clipping them and I certainly didn't mind showing them. I exhibited sheep at the state fair, open shows and even in Louisville 2 years.
With raising livestock there always comes that time of year when you load up the animals and take them to be sold. I grew up knowing that animals were raised for meat consumption, so the thought or idea of selling them did not bother me one bit. In my mind that was there purpose and this was a business. I never cried or felt attached when my father sold a juniper and the same went when my grandfather sold sheep. No tears. No worries. It was all a business proposition to me. I know a lot of young kids (even adults) struggle with that concept but when you think about it from that perspective you realize what their purpose is.
I also knew from a young age that I would go to Purdue (there's that school again, but wait there's more). A couple times a year the family would head down to campus for a game or just a Sunday afternoon get-a-way. There was no doubt in my mind I was going to end up there just like my father and grandfather. There was also no doubt I was going to study Agriculture. It was what I knew, what I was interested in, passionate about and I was ready to make a career out of it. So the fall of 1998 I signed up to major in Animal Science. I didn't want to become a veterinarian necessarily, but did want to work in the livestock industry. After a couple of years I decided Poultry Science was the route to go. The University of Wisconsin offers a Poultry Science major, so the summer of 2001 I went up to Madison and took 3 courses in Poultry Science which then transferred back to Purdue to give me some more specialized training in this area. I had every intent to go to work for a large company in the poultry production, but I lucked into a job with a US Congressman who was on the House Ag Committee and needed someone back in Indiana to handle all of his ag constituent inquiries. It was such a great opportunity that I could not pass it up and worked for him for 4 years. During that time I also handled grants as well and helped numerous communities and non-profits find federal grants to apply for.
It was this experience with grants that led me to start working at the Indiana State Department of Agriculture in late 2006. I apply for federal grants to fund various programs and initiatives the department has. This entails working daily with USDA to ensure all applications, reports, and criteria for the grants are being met. I also use my grant knowledge and contacts to assist individual farmers and producers, as well as state wide agriculture Commodity groups, farmers markets, and SWCD's with various aspects of federal, state and local grant funding opportunities. This is done through ISDA's website, social media sites, and news releases to the ag. media and through a blog (www.aggrantguru.blogspot.com). Lastly, I also oversee all the daily operational aspects of the department such as the accounting, procurement, human resource, technology and vehicles.
Although I don't directly work with livestock, what I do can have an impact on livestock producers and the livestock industry in the state through obtaining funding for programs to assist them. Indiana's livestock industry contributes over $2.5 billion to the states economy. As consumers in foreign countries continue to increase their income levels and change their diets from vegetables to animal protein this will drive the creation of opportunities for livestock producers, processors and jobs for future Animal Scientist.
While at Purdue (by now you get the point that I'm a 3rd generation Boilermaker. We all graduated from the College of Ag and my brother also graduated from Purdue in 2007 with a degree in Ag. Communications and works for a winery on the south side of Indianapolis.) I met Ott, E. We had Biochemistry together and you can read the rest of our story
here
. He majored in Agronomy and stayed at Purdue to get his Masters in Weed Science in 2006. One of the things I love about Ott, E is that he too has a passion for agriculture but more in the area of how crops are raised. He works each day doing research on Agri-chemicals to ensure crops can grow in the most efficient and productive way possible. Just about every day we talk to each other about our jobs and what's new in our areas of agriculture. We have a general knowledge base about each others areas but always learning and sharing more with each other. I hope to use this blog to share some of our knowledge of agriculture with you as well.
Thanks for letting me share my history and story of agriculture with you. There are some other great bloggers out there who have their own story about agriculture to share with you as well. Allow me to introduce you to the "Real Farmwives of America."
And believe me the housewives on Wisteria Lane and the OC have nothing on them.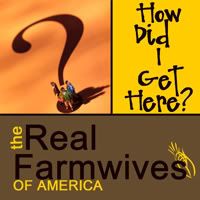 Heather at 3 Kids and Lots of Pigs
Amy & Liz at 2 Maids A Milking
Marybeth at Alarm Clock Wars
Leah at Beyer Beware
Jeanette at Fence Row to Fence Row
Lauren at Four Ransoms and a Farm
Cris at GOODEness Gracious
Meggie at Hoosier Farm Babe
Jent at My Front Porch
Katie at On the Banks of Squaw Creek
Whitney at Life is a Highway and Mine's Surrounded By Corn
Lana at Walking the Off-Beaten Path
Denise at Who is the Grown Up