The older I get the more I like Mexican food. So canning salsa has become more of a priority since I eat more of it. What I've noticed though is how much money I saved by making and canning my own salsa. If you think about it the average jar of salsa cost $3.00 at the grocery story. I can grown the tomatoes, onion and peppers in my garden for a couple of dollars (less if I grow them from seed). If I chop up, add some spices and can myself that's easily a dollar or two per jar I'm saving. One evening after work I made and canned 12 jars of salsa in about 3 hours time. (That's roughly $24 I saved!) And here's how I make it:
10 cups chopped, seeded, peeled cored tomatoes
5 cups chopped and seeded green peppers
1 cup chopped onion
1 1/4 cup cider vinegar
3 cloves garlic
2 T. Cilantro
1 T. Salt
1 T. Sugar
That's right 1 Tablespoon Sugar. This is my personal secret ingredient. I know you're probably questioning that but give it a try sometime I think you'll find it adds that extra something to tickle your taste buds.
So, to get my tomatoes peeled I cut the stems out, and cut a small x on the bottom of the tomato before putting them in a pot of boiling water for about 4 minutes. Then I drain the tomatoes and place them in ice cold water for another 4 minutes. After than the skins peel right off, thanks to the x on bottom which gives you a place to start at.
From there I scoop out the seeds with my hands and place the remaining tomato in my food processor along with the other ingredients to chop it all up. Next I place my salsa in a pot on the stove and bring to a boil. Then I reduce the heat and simmer for 10 minutes. After that I ladle the salsa into warm canning jars, being sure to leave 1/4 inch head space. Next I take a paper towel and wipe off the rim of my canning jars before placing my lids and rings on top. Then place the jars in a hot water bath for 15 minutes.
This recipe yields 6 pints.
To kick it up a notch I take the above recipe and add 1 cup of pineapple. If you've never tried Pineapple Salsa you should as it has a great taste to it. To dress it up a bit I went through and only used yellow tomatoes to give the Salsa a really nice yellow color as you can see in the picture above of the jar to the left and the picture below in the food processor.
Ummm.... doesn't that just make you want to grab a bag of chips and eat it all up?!?!
We hope you are enjoying our "Canning Week Blog Party" and you can still get more tips and recipes over on Jen's Blog today;
From Mess Hall to Bistro
, and while you are there don't forget to sign up for our
give-a-ways
as there are lots of kitchen and canning items you won't want to miss.
If you are interested in learning more about canning check out our
facebook
page where you can post and find recipes, ask questions and meet other canners.
And if you are a canner feel free to link up to our
Canning Week Linky Party
and share what you know and how you can. The linky is open till 4 pm Friday, August 27th and we are excited to announce that we will be having a guest judge for our linky party.....Jane from Make Ahead Meals for Busy Moms will look for the post with the most descriptive explanation, good pictures and entertaining read and that blogger will win a copy of her cook book "Make Ahead Meals for Busy Moms" which is also available for purchase on
Amazon.com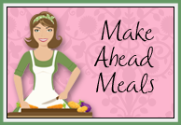 All winners will be announced on Saturday, August 28th.
This post was linked to the following parties:
Strut Your Stuff
on Somewhat Simple,
Show Off your Stuff
at Fireflies and Jellybeans,
Thrifty Thursday
on Tales from Bloggeritaville,