The Countdown is on and our "Canning Week Blog Party" is only one week away!!!!!! Myself and Jen over at From Mess Hall to Bistro are canners. We enjoy putting up produce to enjoy all winter long. I enjoy gardening and processing what we raise and Jen has a big family to feed so having jars on hand ready to go helps out a lot.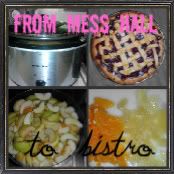 One thing we have both noticed when we are talking to people about our canning is that most seem skeptical or are intimidated about the process of canning. So we thought, what better way to encourage and educate others about canning than through our blog. And why not make it into a party while we are at it!!!
So next week, August 23-27th, both of us will daily post recipes and how to guides on canning. We will share our tips, tricks and secrets of the canning trade. And along the way we will throw in some craft projects with canning jars and money saving tips for thrifty shoppers. We have also started a
facebook
page for this party where you post your own recipes or find recipes from others, interact with other canners, ask questions, etc. So be sure to join that so you won't miss out on anything.
Oh but wait.... theres more...... I will be hosting a Linky Party, during that week on my blog, for other bloggers to link up there canning posts, as well as any posts that utilize canning jars in craft projects or any posts that demonstrate money saving options of canning your own verses purchasing at the store. What I am most excited about is that Jane from Make Ahead Meals for Busy moms has agreed to be our guest judge for this linky party and will be giving away a copy of her cookbook, Make Ahead Meals for Busy Moms to the best post that gives the most detailed information, pictures, descriptions and overall how-to guide.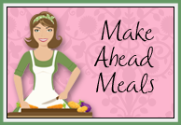 I have flipped through her cookbook and it is fabulous and has some great recipes for the mom on the go. You can also purchase her book through
Amazon
.
And what would any party be without a GIVE-A-WAY!?!? Jen will be hosting that all week long on her blog;
From Mess Hall To Bistro
and she has some fabulous prizes for canning and your kitchen, that you won't want to miss out on.
So grab our badge, join our facebook page, and be sure to stop back by so you will be able to learn and share your canning interests. We'll have a little bit of something for everybody. It will be lots of fun and lots of information. Until then.... Happy Cannning!!!