Calling all canners and canning enthusiast! It's time for the long awaited and highly anticipated
"from garden plOTT to kitchen pOTT:
Canning Week LINKY PARTY"
Starting
Monday, August 23
and running through
Friday, August 27th
4 PM (EST) you can link up your post with 1.) tips or recipes on canning, 2.) any craft projects utilizing canning jars (when there isn't food in them), or 3.) any money saving tips and tricks that you gain from canning.
Our only
rules
are that you stick to our canning theme and only link up posts with canning jars, products, recipes and how to's, etc. and that you post our badge either in your post or on your blog sidebar so others who are interested can come join in the fun and find us too. (The code for this badge can be found at the top of my sidebar.)
The best part is that we will be giving a
prize
to the best post!!! Posts will be judged on quality of pictures, quality of writing, descriptive details and overall an entertaining and informative write up. It is our hope to get bloggers encouraged and educated on how to can, why to can and what to do with their canning supplies.
We are very excited to have Jane from Make Ahead Meals for Busy Moms be our guest judge.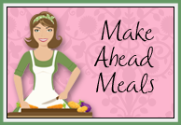 She will be awarding a copy of her cookbook
"Make Ahead Meals for Busy Moms"
to the winning blog entry. If you are interested in her book please check it out on
Amazon.com
Don't forget besides the linky you can also sign up for all the great canning GIVE-A-WAYS we have on Jen's blog;
From Mess Hall to Bistro
. And as if that wasn't enough you can also join our canning week
facebook
page.
Jen and I are partying and canning up a storm all week long so be sure to keep checking back for more!!!!!!!