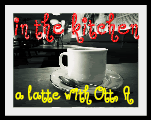 I know there are a lot of bloggers out there who do the make ahead/freezer meals. (a.k.a. my "goode" blogging buddy Cris over at "
Goodeness Gracious
" has turned this into an event with her
Freeze-o-rama
, so please stop by her blog to see how a pro does it.) As for me I have one recipe that when I make it, I make a quadruple batch and freeze the rest for quick easy meals. (That's right I get at least 6 meals for Ott, E and I in one setting.) I'll be the first to admit it's really easy to just pull these out of the freezer and fix. So, here is how I do spinach stuffed shells with ricOTTa cheese.
Firstly, I pick a day with extra time to make the stuffed shells. Here is one of my handy recipe cards for you to click on and print off for your own recipe file. (Oh, and it was "
Goodeness Gracious" where I learned how to do this
. See how useful her blog is!)
So I make and stuff my shells and then put them in my freezer containers in groups of 10-12, because I figure that's what Ott, E and I could eat for dinner and possibly still have left overs for lunch the next day. (So I omit pouring the pasta sauce over the shells in the recipe above.)
When I want to serve these for dinner I pull them out of the freezer and thaw. Pour my canned homemade pasta sauce over the top. (That's right I can my own sauce, look for that in a future post when the tomatoes in my garden are ready to harvest.) Sprinkle with the remaining 1/2 cup of Italian cheese and then stick in the oven to bake. When it's done I have one tasty Italian dish to eat.
Another reason I shared this recipe with you because I wanted to let you know about a giveaway the Indiana Dairy Association is sponsoring right now. (Did you know that they are the group that gives the winner of the Indianapolis 500 his victory ice cold milk in the winners circle?!?!?) They are giving away an ice cream maker attachment to a Kitchen Aid Stand Mixer. Stop by their Blog "
Winners Drink Milk
" and enter for your chance to win and find out more about the Hoosier Dairy Industry, Farmers and some great recipes.
This post was linked to:
Just something I whipped up Monday
on The Girl Creative
Tempt my Tummy Tuesday
at Blessed with Grace
Tasty Tuesday
and Beauty and Bedlam
Tuesday at the Table
at All the Small Stuff
Tuesday Taste
at Crazy Daisey
Baking Day
at Money Saving Mom