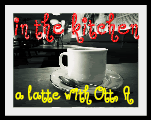 This is absolutely, hands down the most exciting thing for me to do this time of year....getting to cook with what we grow in our garden. I wait patiently all spring and summer until the vegetables are ready to harvest and then I get to take them into our kitchen and make something tasty for us to eat. I don't know what it is about eating what you grow but it always taste better.
So this week I am going to share with you my recipe for Eggplant Parmesan. If you'll recall I have babied this plant for awhile. First it bloomed and I got all excited. Then the eggplant formed and started to grow.
And the eggplant got bigger and finally I picked it.
Eggplant Parmesan
1 Large Eggplant
3/4 cup EVOO
2 cups tomato sauce
1/2 tsp. dried basil
1/2 tsp. garlic powder
1/4 cup grated Parmesan cheese
8 oz. shredded Mozzarella cheese.
Peel Eggplant and cute into 1/4 inch slices. Fry on both sides in skillet in hot oil until browned. Drain well on paper towels. Place a layer of eggplant slices in a shallow baking dish: cover with a portion of the following ingredients: tomato sauce, and sprinkle with basil and garlic powder, Parmesan cheese and mozzarella cheese. Repeat layers until all ingredients are used, ending with mozzarella cheese. Bake uncovered at 400 degrees for 15-20 minutes. Serve over spaghetti pasta. Yield: 4 people.
A meal like this calls for an Italian ridotto. (a ridotto is a favorite Italian public entertainment, consisting of music and dancing.)
This post was linked to:
Just something I whipped up Monday
on The Girl Creative
Tempt my Tummy Tuesday
at Blessed with Grace
Tasty Tuesday
and Beauty and Bedlam
Tuesday at the Table
at All the Small Stuff
Tuesday Taste
at Crazy Daisey
Recipe Swap Sunday
at Remodelaholics
Goodlife{eats}
Saving Cents with Sense