Yet again this week I come to you with a recipe for something I grew in my garden.
Zucchini!!
If you would like to see a better picture of this recipe please click here.
This is where my "plOTTing and planting" feature meets my "in the kitchen a lOTTe" feature.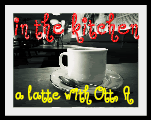 I love going to my garden, picking something I grew, bringing it in the kitchen and baking something with it. It makes me feel resourceful and downright thrifty. So this here is my recipe for chocolOTTe chip zucchini cake. This is definitely Ott, E's favorite cake!!!
We planted our zucchini in early May. It bloomed in late June and we harvested it in July. I notice people are always looking for something to do with their zucchini this time of year, when there is plenty of it around. So when I found this tasty recipe I knew it was a keeper.
I use a food processor to grate/puree the zucchini for this recipe.
As always, here is a handy little recipe card you can click on, print off and use to make this tasty cake yourself.
This post was linked to:
Tasty Tuesday
and Beauty and Bedlam
Tuesday at the Table
at All the Small Stuff
Tuesday Taste
at Crazy Daisey
Saving Cents with Sense
Tuesday Garden Party