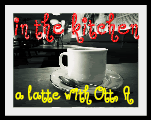 Now firstly I know what your thinking.....What is the epiglottis? Well thats the piece of skin that hangs down the back of your throat and covers the wind pipe when you swallow. (I bet you didn't know you were going to get a vocabulary lesson today.) But this recipe is sooo delicious, unique and has a stick to your ribcage goodness that your epiglottis will be happy for you to eat again and again.
I have a Rachel Ray cookbook and one of my favorite things to make is her Sloppy BBQ Chicken Pizza with a cornbread crust. As Rachel Ray herself would say...."It's YUMMMMOOOO!"
To start off I have a handy recipe card with all the ingredients and directions. You can easily click on it, print it and make this dish for your family tonight.
Below is a picture of what the cornbread crust will look like in your skillet. Be sure to wrap the handle of your pan with aluminum foil.
Next the sloppy chicken BBQ mixture (pictured below) which you can season to your own taste and make this as spicy or as sweet as you desire by adjusting the seasonings in the recipe.
Lastly, once your pizza is baked you can slice it up into 8 wedges and serve. Enjoy!!!
This post is linked up to the following parties: